For a limited time, all orders will enjoy free shipping to the United States.
Shop Now
Razer Blade 15
Starts from $1,799.99

More Power. More Cores. More Frames.
Already know what you're looking for?
More Power. More Cores. More Frames.
Meet the new Razer Blade 15— crafted for those who demand more.
We're talking more power with an available 8-Core 10
th
Gen Intel
®
Core™ i7 processor, up to 25% faster graphics with NVIDIA
®
GeForce RTX SUPER™, and up to 300Hz FHD matte displays for an obscene competitive advantage in high-FPS games. Unleash your creativity anywhere with its visually stunning OLED 4K display featuring 100% DCIP-3 color space, and experience all this performance packed into in a durable, precision-crafted aluminum chassis that remains as compact as ever at up to 0.7-inches thin.
| | Advanced ModelNEW | Base ModelNEW |
| --- | --- | --- |
| OS | Windows 10 Home | Windows 10 Home |
| Processor | 8-Core 10th Gen Intel® Core™ i7 | 6-Core 10th Gen Intel® Core™ i7 |
| Graphics | Up to NVIDIA® GeForce RTX 2080 SUPER™ | Up to NVIDIA® GeForce RTX™ 2070 |
| Display | 300Hz FHD Matte or OLED 4K Touch | 120Hz, 144Hz FHD Matte or OLED 4K |
| Storage / RAM | Up to 1TB PCIe / 16GB RAM | Up to 512GB PCIe + Open M.2 PCIe 3.0 x4 Slot / 16GB RAM |
| Cooling | Vapor Chamber | Advanced Heat pipe |
| Keyboard | Per-key RGB Razer Chroma | Single-zone RGB Razer Chroma |
| Ports+ | +SD Card Reader | +Ethernet (Select Models) |
| Approx. Height | 0.70" | 0.78" - 0.81" |
An Overpowered Combination
Now with the option to pair a 10th Gen Intel® Core™ i7 processor with NVIDIA® GeForce RTX™ graphics, the Razer Blade 15's potent performance is fully capable of powering through creative tasks with ease, and can handle the running and streaming of the latest AAA games simultaneously—including support for real-time ray tracing.
Up to 8-Cores

10th Gen Intel Core i7 processor

Up to 25% Faster

GeForce RTX SUPER™ Series

16GB 2933MHz

Dual-Channel Memory (upgradeable)
Ultimate Performance, On-The-Go
10th Gen Intel® Core™ processors provide the ultimate level of performance for gamers and creators with the Advanced model packing up to 5.1Ghz Turbo Boost, 8-Cores, and 16 MB of Intel® Smart Cache. Integrated Intel® Wi-Fi 6 AX201 (Gig+) delivers the next generation Wi-Fi technology for peak wireless gaming performance.
Advanced Model
10th Gen Intel Core i7-108758-Core, 16 Threads
2.3GHz / 5.1GHz (Base / Max)
L3 Cache 16M

Base Model
10th Gen Intel Core i7-107506-Core, 12 Threads
2.6GHz / 5GHz (Base / Max)
L3 Cache 12M
Graphics Supercharged
Now the new Razer Blade 15 Advanced Models are available with GeForce RTX SUPER™ Series graphics that provide even more cores and higher clocks, bringing you performance that's up to 25% faster than the original RTX 20 Series. Dedicated ray tracing hardware enables fast real-time ray tracing of objects and environments with physically accurate shadows, reflections, refractions, and global illumination.
Stunningly Seamless
Get more out of your viewing experience with a thin, 15.6" edge-to-edge display that offers minimal bezel distraction.
High-FPS Gaming
In competitive games where a high frame rate's crucial to edging out a win, feel and see the distinct advantage with refresh rates of up to 300Hz. With on-screen action this smooth and fluid, it'll allow you to spot things earlier, track a headshot faster, and take your game to its absolute limit.
Every Shade Of Accurate
With a blazing fast 1ms response time, the OLED 4K, 3840 x 2160 display option has a wide color range that covers 100% of the DC1-P3 space, allowing creators to work on their projects with true visual clarity. Each display is individually tested and calibrated to ensure accuracy and quality.
Ultra-thin Aluminum Frame
Going as thin as 0.7 inches, the precision-crafted aluminum chassis is made even more durable through the process of anodizing—an electro-chemical bonding between the frame and protective coating as part of the laptop's Black or Mercury White finish.
Small Laptop. Big Cooling
The Advanced Models of the Razer Blade 15 utilizes a custom vapor chamber and cutting-edge thermal materials to efficiently and quietly dissipate heat for maximum performance and user comfort. The Base Model features a bespoke heat pipe system, capable of handling the thermal needs under the heaviest of loads.
Advanced model shown
1. Custom 44 blade fans for high air flow and low noise
2. Graphite-based, server-grade thermal materials deliver precise control of heat and reliability
3. Nanoparticle thermal blockers to reduce hot spots
4. Integrated heat exchangers with 68 fins just 0.1 mm thin each for maximum heat dissipation
5. Large surface area covers CPU, GPU, and other heat-generating components
*Actual product may differ from image.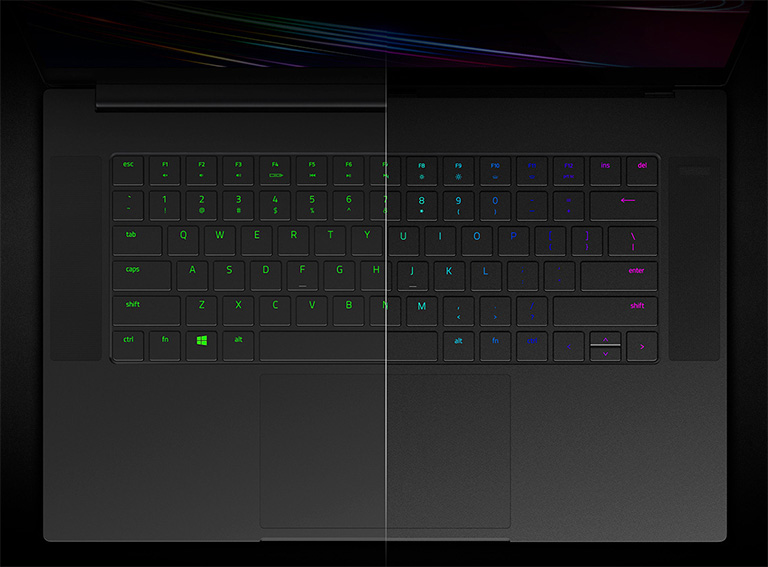 | Base Model | Advanced Model |
| --- | --- |
| Single-zone RGB Lighting | Per Key RGB Lighting |
Single-zone RGB Lighting
The Base Models of the Razer Blade 15 feature a single-zone backlit keyboard powered by Razer Chroma™ RGB. Choose from 16.8 million colors to fully illuminate each key.
Per Key RGB Lighting
The Advanced Models of the Razer Blade 15 are equipped with per-key lighting powered by Razer Chroma™ RGB. Each key can be individually assigned a color, allowing for maximum customization and effect options.
TOUCHPAD
Precise Glass Touchpad
A large, clickable glass touchpad with Microsoft Precision Touchpad support means smooth and precise control, including a range of gestures for expanded navigation.
SYNAPSE 3
Advanced Control System
Take full control with the new Razer Synapse 3, from customizing lighting, managing profiles, adjusting fans, and even stepping up graphics performance in Gaming Mode.
More Ports. More Possibilities.
The Razer Blade 15 is equipped with advanced connectivity to accommodate a wide range of devices. Select models feature Wi-Fi 6 (802.11ax), Bluetooth® 5.1, Thunderbolt™ 3, and plenty of ports for external displays and peripherals. The Advanced Model supports USB-C Charging with 20V adapters, a UHS-III SD Card Reader, and Windows Hello IR Camera. The Base Model of the Razer Blade 15 includes Gigabit Ethernet for ultra-fast connectivity.
1. SD Card Reader, UHS-III
2. Thunderbolt™ 3 (USB-C)
3. USB Type-A
4. HDMI 2.0b
5. Kensington Lock
6. Power
7. USB Type-C
8. Gigabit Ethernet
9. 3.5mm Combo Audio
Imagine. Create. Inspire.
NVIDIA Studio
Have the power to craft your vision anywhere your creativity takes you—the Razer Studio Edition laptops are created to be powerful, purposeful, and portable. Turing GPUs turn your laptop into a digital studio, with incredible performance boosts in video editing, 3D animation, and other content-creation tasks thanks to dedicated RT and Tensor Cores. From photographers and filmmakers to musicians and VFX artists, we're equipping every kind of creative with a mobile workstation capable of producing work that brings your brilliance to life.
More games. More fun.
Windows 10 is the biggest PC gaming platform out there. Delivering more power, features, and you guessed it, games. Play everything from the Microsoft Store, Origin, Epic, and Steam—in fact, most games on Steam are built especially for Windows. So whether you're a seasoned gamer or just getting started, Windows gives you more choices and chances to play.
FREE Upgrade to Windows 11 (when available*)
The Windows 11 upgrade will be delivered to qualifying devices late 2021 into 2022. Timing will vary by device. Certain features require specific hardware (see
aka.ms/windows11-spec
).
Actual product may differ from image.
RAZERCARE FOR YOUR NEW RAZER BLADE
Extend your coverage to 3 years with the
RazerCare Protection Plan
and enjoy worry-free support and available accidental damage coverage.