A DIGITAL CELEBRATION
FOR GAMERS. BY GAMERS.
In a true celebration of everything gaming, #RazerCon2021 is back on October 21st to bring an epic entertainment experience for our global gaming community. Gearing up to be bigger and better than last year, catch us for a full-day of gaming goodness packed with exclusive unveils, music performances, and more.
TITLE SPONSOR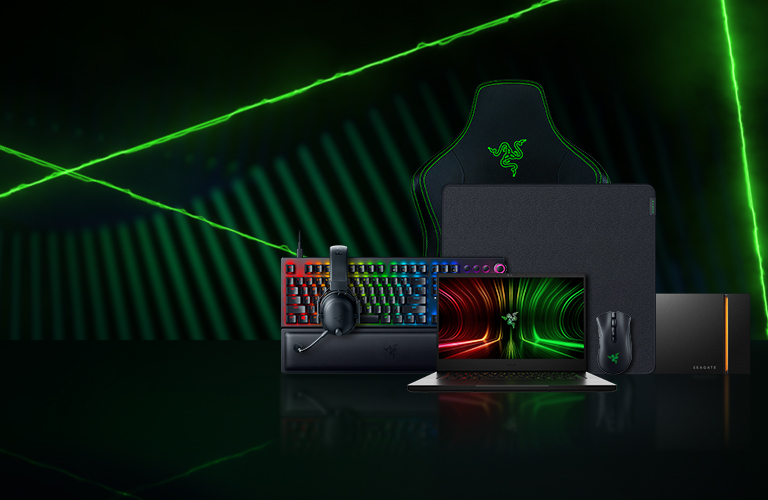 #RAZERCON2021 GRAND RAFFLE
Take part and tune in to our annual RazerCon for a chance to score some sweet prizes!
Get in on these giveaways now by following the steps below.

Stay tuned for more hardware prizes from our partners!
HOW TO ENTER
Fill up and submit the form below.
From now till October 21st, follow and like our social media pages and look out for our RazerCon 2021 posts.
Comment, like, and share/retweet these posts. Don't forget to include #RazerCon2021 in your comment!
Grand

Prize

Razer Blade 14

QHD 165Hz GeForce RTX 3080

Razer Iskur
Razer BlackShark V2 Pro
Razer DeathAdder V2 Pro

Razer BlackWidow V3 Pro
Razer Strider - Large
First

Prize

Razer Iskur X
Razer BlackShark V2 Pro
Razer DeathAdder V2 Pro
Razer BlackWidow V3 Pro
Razer Strider - Large
Razer Base Station V2 Chroma
Second

Prize

Razer Iskur
Razer BlackShark V2 Pro
Razer DeathAdder V2 Pro
Razer BlackWidow V3 Pro
Razer Base Station V2 Chroma
Third

Prize

Razer Iskur X
Razer Opus X - Quartz
Razer Viper Ultimate - Quartz
Razer BlackWidow V3 - Quartz
Fourth

Prize

Razer Iskur X
Razer Opus X - Mercury
Razer Viper Ultimate - Mercury
Razer Huntsman Mini - Mercury
Sneki Snek

Bundle

Razer Sneki Snek Plushie
Razer Sneki Snek Head Pillow
Razer Sneki Snek Eye Mask
Razer Sneki Snek Floor Rug
Razer Sneki Snek Slippers
Razer Sneki Snek Bobblehead