Accessories
Explore our collection of battlestation add-ons that offer the perfect balance of flair and functionality—absolute essentials for creating the ultimate RGB setup.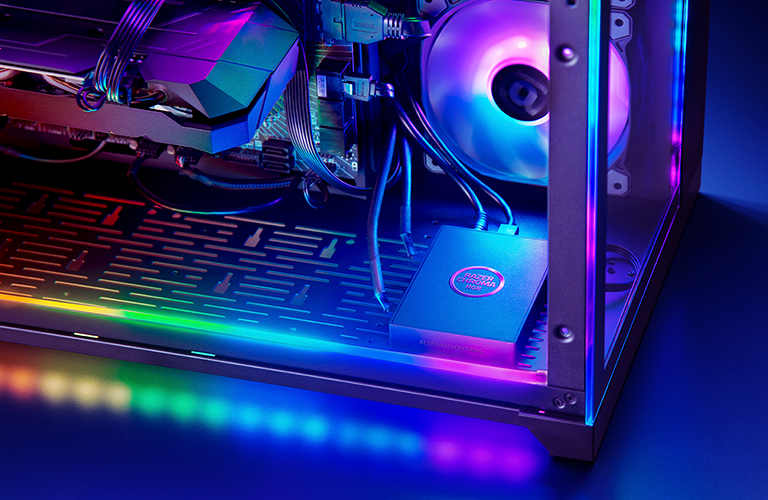 Razer Chroma Addressable RGB Controller
Realize your ultimate RGB vision with the Razer Chroma Addressable RGB Controller, as you sync your ARGB components with your Razer Chroma peripherals and devices via Razer Synapse 3—software designed for the world's largest lighting ecosystem for gaming devices.
Razer Base Station V2 Chroma
Add more functionality and flair to your gaming setup with the Razer Base Station V2 Chroma. Sync up your RGB lighting effects to our new, improved headset stand USB hub—designed to hang and display your headphones while you take a break from gameplay or work.
CHROMA RGB SHOW AND TELL
If you've got a sweet Chroma build you can't wait to show off, then we're always up to be amazed.
Enter your setup into our monthly Chroma RGB Show and Tell for a chance to:
Win a featured Razer Chroma RGB accessory

Have your battlestation featured on this page and our social media
Razer Base Station V2 Chroma - Quartz
THIS MONTH'S REWARD
The Ultimate Razer Chroma™ RGB Battlestations
HOW TO ENTER
Note: Please ensure the provided URL is valid for your entry to be considered
1. Take a picture of your Chroma setup and post it on social media with the tag #Razerchroma
2. Submit the post's URL together with your details via the form provided here
All fields are mandatory.
Terms and Conditions apply
Terms & Conditions
By participating in the Chroma RGB Show and Tell series, you shall be deemed to agree to the following:
Entry procedure: All photos shall be submitted in the stipulated manner on https://www.razer.com/campaigns/razer-chroma-accessories within the campaign duration.
You agree that Razer shall reserve the right to publish your submitted photo via Razer's website and social media platforms.
Only submitted photos showing Razer gaming peripherals and accessories will be considered.
The campaign will begin immediately and end on such a date/time as Razer may announce in its absolute discretion.
A winner will be chosen on the 25th of every month and notified via e-mail.
Eligibility
Prizes

One prize for one winner every month.
Prize is subject to change every month.
Choice of prize is subject to Razer's discretion.

Method of selecting a winner: Razer shall, at its discretion, select the best eligible entry for the month.
All participants agree to the Additional Sweepstakes Terms and Conditions.