For a limited time, all orders over US$49 will enjoy free standard shipping to the United States.
Shop Now

>

POWER. PERFORMANCE. PERFECTION.
Text appears: Razer Blade 15.
The Razer Blade 15 gaming laptop floats against the backdrop of a cyberpunk city skyline at night.
The laptop opens as the camera swivels around,
As the environment suddenly changes to the inside of a cyberpunk apartment.
Text appears: Power. Performance. Perfection.
The camera zooms into the laptop's keyboard, as its keycaps start to float upwards,
Revealing its powerful hardware within.
Text appears: 12th gen Intel Core i9 Processor (14-core). More cores. More performance.
The camera zooms into the Intel Processor and enters an abstract geometric dimension.
Text appears: Latest Nvidia GeForce RTX Graphics.
Particles form into Nvidia's GeForce RTX logo.
Text appears: Immersive gaming experience.
The camera zooms into the logo, as it cuts to 2 planes engaged in a dogfight.
Text appears: Battlefield V. Console. PC. Xbox Game Pass. EA Play.
2 RAM sticks float into frame.
Text appears: Next-gen DDR5 memory.
They continue floating downwards, smoothly slotting into the Razer Blade 15.
Text appears: Faster speeds with lower power.
A layer of frost and ice forms across a Vapor Chamber Cooling system.
Text appears: Vapor Chamber Cooling.
It slots into the laptop's underside.
Text appears: Next gen Vapor Chamber
The Razer Blade 15 flips up and opens to reveal its screen.
Text appears: Your choice of fast display. 360Hz Full HD. 240Hz QHD. 144Hz UHD.
Green soundwaves ripple out from the laptop.
Text appears: Speakers with THX Spatial Audio. For a cinematic viewing experience.
The camera zooms in super close to the sides of the laptop frame, highlighting its premium build and speaker grills.
Text appears: CNC chassis with laser-cut speaker grills. Anodized and coated with anti-fingerprint resistive coating.
The camera cuts back to the Razer Blade 15 in the cyberpunk apartment.
Text appears: Power. Performance. Perfection.
As the camera swivels around, the environment suddenly changes,
Leaving the Razer Blade 15 floating against a backdrop of neon energy strips.
Text appears: Razer Blade 15
The Razer wordmark appears together with the Nvidia GeForce RTX logo, Intel Core i9 logo, and the Razer
Chroma RGB logo.
The video closes with the Razer logo, followed by the Razer Chroma RGB logo.
"… the Best Tech Support…"

Best Gaming Laptop for gaming

Tom's Guide –
Highly Recommended

"… your best bet … for the best combination of style, design, and performance."

Windows Central –
Best RTX 3070 Gaming Laptops of 2022

"… the right combination of power, style, and Display... on the market today."

Windows Central –
Best Gaming Laptops of 2022
Already know what you're looking for?
Power. Performance. Perfection.
Just when you thought a gaming laptop couldn't be any more beastly—introducing the new Razer Blade 15, now available with the latest 12th Gen Intel® Core™ processor (14-core) and NVIDIA® GeForce RTX™ 30 Series Laptop GPUs for the most powerful gaming laptop graphics ever. With your choice of a Full HD 360Hz, QHD 240Hz (G-SYNC or OLED), or new UHD 144Hz display, enjoy unrivalled performance packed into the thinnest 15" RTX gaming laptop chassis ever.


New Blade 15New


Base Model
OS
Windows 11 Home
Windows 10 Home - Free Upgrade to Windows 11*
Processor
12th Gen Intel® Core™ i9 Processor (14-core)
6-Core Intel® Core™ i7
Graphics
Up to GeForce RTX™ 3080 Ti Laptop GPU
Up to GeForce RTX™ 3070 Laptop GPU
Display
FHD 360Hz, QHD 240Hz (G-SYNC or OLED) or 4K 144Hz
FHD 144Hz or QHD 165Hz
Storage
1TB PCIe
Extra M.2 PCIe Slot
512GB PCIe
Extra M.2 PCIe Slot
Memory
16GB or 32GB RAM (DDR5 4800MHz)
16GB RAM (DDR4 3200MHz)
Cooling
Vapor Chamber
Advanced Heat pipe
Keyboard
Per-key RGB
Single-zone RGB
Other Ports
SD Card Reader
Gigabit Ethernet
Approx. Height
As thin as 0.67" / 16.99 mm
0.78" / 19.9 mm
12th Gen Intel® Core™ i9 Processor (14-Core)
More Cores, More Performance

Experience cutting-edge power with the newly released Intel® Core™ i7 processor, or upgrade it to a Core i9 for unrivalled performance to take on the most demanding gaming and creative tasks. Intel's 12th Gen processors bring a revolutionary new design with a performance hybrid architecture that combines performance-cores with efficient-cores, offering users the freedom to chat, browse, stream, edit, record, and play. Integrated Killer® Wi-Fi 6E AX16900 (Gig+) delivers the next generation Wi-Fi technology with packet prioritization for a better gaming experience.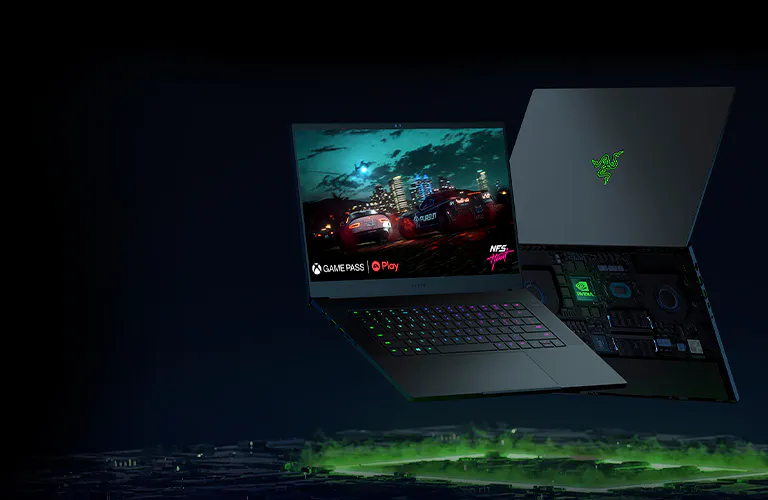 NVIDIA® GeForce​ RTX™ 30 Series Graphics
The Ultimate Play

NVIDIA® GeForce RTX™ 30 Series Laptop GPUs power the world's fastest laptops for gamers and creators. They're built with Ampere—NVIDIA's 2nd gen RTX architecture—to give you the most realistic ray-traced graphics and cutting-edge AI features like NVIDIA DLSS. Plus, Max-Q Technologies unleash the power of AI to make thin, high-performance laptops that are faster and better than ever.

The new GeForce RTX 3080 Ti Laptop GPU brings the flagship 80 Ti class of GPUs to laptops for the first time. Featuring 16GB of the fastest GDDR6 memory ever shipped in a laptop, the RTX 3080 Ti delivers higher performance than the desktop TITAN RTX. The new GeForce RTX 3070 Ti is up to 70% faster than RTX 2070 SUPER laptops and can deliver 100 frames per second at 1440p resolution.
Boost Performance with AI
NVIDIA DLSS gives games a speed boost with uncompromised image quality. Crank up the settings and resolution for an even better visual experience.
More Immersive Experiences
Ray Tracing is the holy grail of graphics. It simulates how light behaves in the real-world to produce the most realistic and immersive graphics for gamers and creators - and runs fast thanks to 2nd gen RT Cores.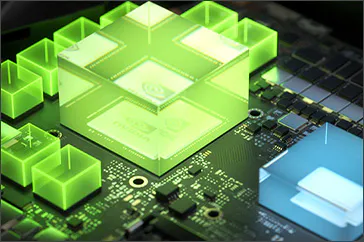 Optimized Power and Performance
NVIDIA Max-Q is a suite of technologies powered by AI that optimize laptops to deliver high performance in thin form factors.
Your Ideas, Accelerated by NVIDIA Studio
Unleash your creativity with NVIDIA Studio laptops, purpose-built for creators, tested and validated to deliver fast and fluid performance across the most challenging creator workflows, and preconfigured to take advantage of all the NVIDIA Studio benefits.

Equipped with the most advanced GPUs in the world for creators, NVIDIA GeForce RTX™ 30 Series, NVIDIA Studio systems deliver the highest fidelity digital Graphics with real-time ray tracing, plus AI acceleration in your favorite creative apps. Pre-installed NVIDIA Studio Drivers are extensively tested against top creative software to deliver maximum stability. And exclusive tools like NVIDIA Omniverse grant 3D creators access to the latest AI technology from NVIDIA. Finish your projects in record time with NVIDIA Studio systems.
Next-Gen DDR5 (4800MHz) Memory
Enhanced Response Times

Feel the boost with an increase of 1600MHz compared to DDR4, as you enjoy a quicker, smoother experience when loading applications, running games, and performing other everyday PC tasks.
Fastest, Sharpest Laptop Displays
Whether you're going with FHD 360Hz, QHD, or 4K, get more out of your viewing experience with a thin, 15.6" edge-to-edge display that offers minimal bezel distraction and is custom calibrated for color accuracy and quality.
Crisp, Competitive Gaming – FHD 360 Hz
In competitive games where a split-second advantage is crucial to coming out on top, gain a distinct edge with an ultra-high refresh rate for buttery-smooth gameplay.
New Razer Blade 15

FHD 360 Hz
2ms response
Up to 100% sRGB

Base Model

FHD 144 Hz
8ms response
Up to 100% sRGB
Smooth, Sharp Visuals – QHD 240 Hz
Go with a higher resolution QHD Display for slick, responsive gaming that comes with a greater level of detail. Enable NVIDIA® G-SYNC® in the Blade 15 to eliminate screen tearing for an immersive, stutter-free experience.
New Razer Blade 15

QHD 240 Hz
ADVANCED OPTIMUS
NVIDIA® G-SYNC®

Base Model

QHD 165 Hz
Up to 100% DCI-P3
Every Shade of Accurate – 4K
Only available for the Razer Blade 15, this display is made for creators who require true visual clarity so that their creative visions can be brought to life. Now with a 144Hz refresh rate, experience visuals that are buttery smooth.
Incredibly Fast & Vibrant 240Hz (0.2ms R/T) QHD OLED
The stunning OLED Display delivers rich colors captivating its users making even the simplest environments immersive. Experience a New world of gaming and creating with the best-in OLED displays.
This is a carousel. Use the slide dot buttons to navigate into any slide.
Best Responsiveness

25ms System Latency

You need the best performance to win in First-Person Shooters and Battle Royale games like Fortnite, Apex Legends, and Rainbow Six Siege. Achieve sub-25ms system latency with NVIDIA Reflex and GeForce GPUs.
System latency chart - lower is better.
Rainbow Six Siege - RTX 3080, 10 milliseconds. RTX 3070, 11 milliseconds. RTX 3060, 13 milliseconds.
Fortnite - RTX 3080, 16 milliseconds. RTX 3070, 17 milliseconds. RTX 3060, 20 milliseconds.
Apex Legends - RTX 3080, 19 milliseconds. RTX 3070, 20 milliseconds. RTX 3060, 22 milliseconds.

Unbeatable Performance

144+ FPS Gaming

A faster Graphics card delivers higher frame rates that let you see things earlier and give you a better chance of hitting targets. That is why players with better Graphics cards average higher Kill/Death (KD) ratios. NVIDIA GeForce GPUs deliver the highest FPS for competitive games.

Higher FPS higher performance chart.
Rainbow Six Siege - RTX 3080, 410 fps. RTX 3070, 350 fps. RTX 3060, 250 fps.
Fortnite - RTX 3080, 290 fps. RTX 3070, 250 fps. RTX 3060, 150 fps.
Call of Duty: Warzone - RTX 3080, 200 fps. RTX 3070, 190 fps. RTX 3060, 140 fps.

Ultra-Efficient Vapor Chamber Cooling
Optimal Thermal Performance
The Razer Blade 15 efficiently dissipates heat through the evaporation and condensation of an internal fluid—a design which has enabled the laptop to achieve its thin profile.
Upgraded with more fins, fans, and a larger liquid capacity, the system maximizes its nanoparticle thermal blockers and server-grade components to maximize thermal threshold and squeeze every ounce of FPS out of the laptop.
The Base Model features a bespoke heat pipe system designed to handle intense temperature build-ups that arise from heavy loads.
Activating the following buttons will change the text below the image.
1. 88 blade fans for high air flow and low noise
2. Graphite-based, server-grade thermal materials deliver precise control of heat and reliability
3. Nanoparticle thermal blockers to reduce hot spots
4. Integrated heat exchangers with 83 fins just 0.075 mm-thin each for maximum heat dissipation
5. Large surface area covers CPU, GPU, and other heat-generating components
Powered by Razer Chroma™ RGB
Personalize the RGB gaming keyboard with over 16.8 million colors and a suite of effects to choose from. Enjoy greater immersion with dynamic lighting effects that occur as you game on over 150 Chroma-integrated titles such as Fortnite, Apex Legends, Warframe, and more.
2021 Base Models
Single-zone RGB
*Keyboards shown above are US Layouts, other Regional Keyboards may vary.
Lots and Lots of Ports
The Razer Blade 15 is equipped with advanced connectivity to accommodate a wide range of devices. Select models feature Wi-Fi 6E (802.11ax), Bluetooth® 5.2, Thunderbolt™ 4, and plenty of Ports for external displays and peripherals.
1. SD Card Reader, UHS-II
2. Thunderbolt™

4

(USB-C)
3. USB Type-A
4. HDMI 2.1
5. Kensington Lock
6. Power
7. USB Type-C
8. Gigabit Ethernet
9. 3.5 mm Combo Audio
THX® Spatial Audio
An advanced 7.1 surround sound that provides pinpoint positional accuracy when using headphones and speakers, to deliver immersive, lifelike audio for stereo and multi-channel content alike.
Precise Glass Touchpad
A large, clickable glass touchpad with Microsoft Precision Touchpad support means smooth and precise control, including a range of gestures for expanded navigation.
Advanced Control System
Take full control with the New Razer Synapse 3, from customizing lighting, managing profiles, adjusting fans, and even stepping up Graphics performance in Gaming Mode.
USB-C Charging
(Advanced Model)
Quickly charge on the go with a USB-C 20V laptop charger that also works when connected via the Thunderbolt port.
Windows Hello
(Advanced Model)
Using facial recognition or a PIN, Windows Hello is a fast, secure, and password-less way to unlock your Windows devices.
Fast Track Your Creativity
Have the power to craft your vision anywhere your creativity takes you—the Razer Studio Edition creator ready laptops are crafted to be powerful, purposeful, and portable. Whether you're an aspiring artist or an industry veteran looking to do your best work, NVIDIA GPUs make it happen—fast.
RAZERCARE FOR YOUR NEW RAZER BLADE
Extend your coverage to 3 years with the RazerCare Protection Plan and enjoy worry-free support and available accidental damage coverage.