Join RazerStore Rewards to unlock bonus Razer Silver, reduced minimum spend for free shipping, exclusive perks and more.
Join Now
THE NEXT LEVEL OF GAMING IMMERSION
Throughout gaming history, visual and audio technologies have evolved to deeply engage our senses of sight and hearing, creating lifelike experiences in games. But what if we could engage another one of our senses to further enhance the parallel between gaming and real life? Razer HyperSense now lets you feel the action in games as we enter a new frontier in gaming immersion.
FEEL EVERY BATTLE
Introducing the Razer Kraken V3 Pro, featuring Razer HyperSense — a wireless PC gaming headset equipped with intelligent haptic technology developed by Lofelt™ that converts sound signals into dynamic touch-sensory feedback in real time. Haptics in gamepads today provide simple feedback and rumbling during key in-game events. With Razer HyperSense, the Razer Kraken V3 Pro picks up the shape and frequencies of game audio and transforms them into rich, lifelike haptic effects. Vibrations flow accurately from left to right, and with different intensities, depending on where the audio cues are coming from in the game. Gamers will now have heightened awareness of their in-game surroundings.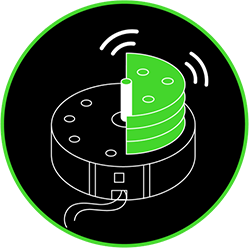 Haptics Today
NATURAL, LIFELIKE SENSATIONS



Traditional haptic drivers only deliver simple buzzes due to narrow frequency range (60 Hz)

ACCURATE POSITIONAL INFORMATION



Mono Reproduction

WORKS EVERYWHERE



Requires integration, pre-programmed with the game

Intelligent Haptics with Razer HyperSense
NATURAL, LIFELIKE SENSATIONS



Intelligent Digital Signal processing delivers natural, lifelike sensations using a wide frequency range (20 – 200 Hz)

ACCURATE POSITIONAL INFORMATION



Lofelt L5 haptic drivers in each earcup delivers Stereo Reproduction

WORKS EVERYWHERE



Real-time processing, requires no integration, works across different platforms
NEXT-GENERATION HAPTIC DRIVERS
Razer HyperSense features advanced signal processing and state-of-the-art L5 haptic drivers developed by Lofelt™ to turn sound into high-resolution vibrotactile signals that accurately mimic actions from the game in real time.
STAY IMMERSED ON ANY DEVICE
With a 3.5 mm audio jack, you can plug in the Razer Kraken V3 Pro to other devices such as your mobile phone or console, and enjoy the same immersive experience. No third-party application or pre-programming is needed to activate Razer HyperSense. This means you get to feel advanced haptics on any device, whether you're gaming, listening to music, or watching a movie.
EXPERIENCE THE NEXT FRONTIER OF GAMING IMMERSION NOW