Unleash a new age of technology with an arsenal of cutting-edge innovations that will keep you ahead of the game.
Shop Now
CALIBRATE. CONTROL. CONQUER.
Enter a higher dimension of control with the Razer Huntsman V2 Analog—our first analog optical gaming keyboard. Armed with every feature you'd expect from a top-of-the-line design, you'll want for nothing in your pursuit of victory.
RAZER™ ANALOG OPTICAL SWITCHES
Actuation at the speed of light now comes with more granular control. Fitted with our latest and most advanced switches, the Razer Huntsman V2 Analog redefines the limits of what a gaming keyboard can do.
ADJUSTABLE ACTUATION
Choose How You Play
From a light, responsive 1.5 mm height for fast-paced gaming, to a full 3.6 mm actuation for deeper, more deliberate keystrokes, these switches can be tailored to your playstyle.
ANALOG INPUT
Finer Movement Control
Do away with rigid 8-way WASD movement for FPS and racing games with switches capable of smooth 360-degree motion inputs just like analog joysticks and thumbsticks.
DUAL-STEP ACTUATION
Streamline Your Actions
With the ability to set two functions within one keypress, you'll be able to make more efficient plays especially when it comes to executing advanced combos and skill rotations.
DOUBLESHOT PBT KEYCAPS
Harder and more durable than ABS plastic, the sturdy, textured keycaps on this analog optical gaming keyboard won't wear down to a shiny finish and have labels which will never fade thanks to their doubleshot molding process.
POWERED BY RAZER CHROMA™ RGB
With 16.8 million colors and a suite of effects, sync its per-key lighting and underglow with the rest of your battlestation, and enjoy greater immersion as it dynamically reacts with over 150 integrated games.
MAGNETIC PLUSH LEATHERETTE WRIST REST
Featuring Razer Chroma™ RGB underglow, the soft, cushioned wrist support magnetically snaps to the keyboard to relieve pressure on your wrists, so you feel less fatigued when gaming over long periods.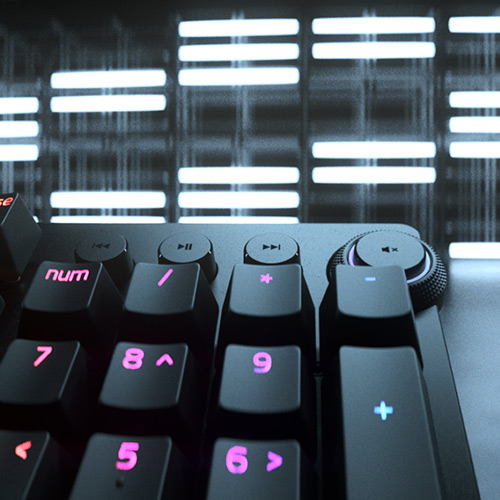 MULTI-FUNCTION DIGITAL DIAL AND 4 MEDIA KEYS
Configure them to pause, play, skip and tweak everything from brightness to volume—the ultimate convenience as you enjoy your entertainment.
USB 3.0 PASSTHROUGH
Instead of reaching over to your rig to plug in a device, you can connect it conveniently to your PC via a USB port in this analog optical gaming keyboard.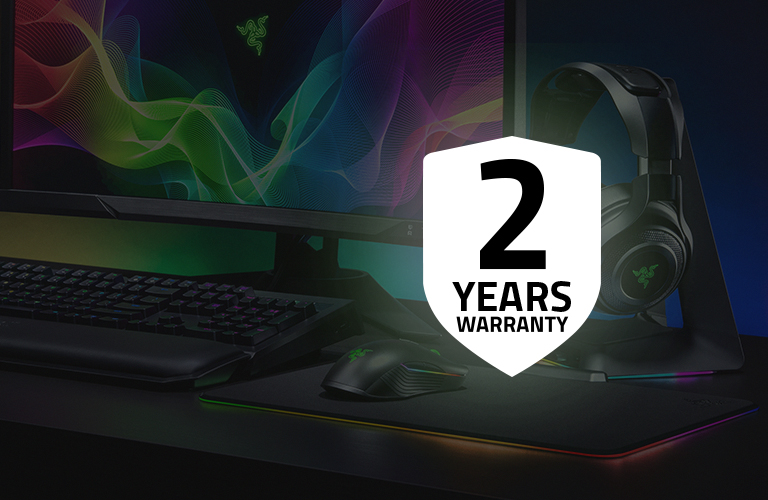 We've Got You Covered
Get up to 2 years of warranty and access reliable tech support. Purchase directly from RazerStore and get 14 days risk-free returns.
FAQ
What games are supported by Analog Input on the Razer Huntsman V2 Analog?

Any game that can be used with a gamepad will work with the Analog Input on the Huntsman V2 Analog. Make sure to set your desired keys to the mapped movement keys.

How do I set the actuation point on my Huntsman V2 Analog?

You can set the actuation point of each key from 1.5 to 3.6mm via Razer Synapse. You can also set one key and apply it to all keys on your keyboard.

How do I set dual-step actuation on the Razer Huntsman V2 Analog?

Dual-step actuation allows you to assign a keybind to 2 actuation points on the same switch via Razer Synapse. This allows you to combine specific motions, such as equipping an item and using it in one button, while controlling the delay between the two actions.

What connection does the Razer Huntsman V2 Analog use?

The Razer Huntsman V2 Analog needs a USB 3.0 port via the adapter, or a USB Type-C port to power the keyboard, and an optional USB 3.0 port for the passthrough.

What is the Typing Mode Quick Toggle and how can I use it?

When analog actuation or custom settings are mapped on the Razer Huntsman V2 Analog, the mapped keys will no longer function as standard keys for normal typing. The Typing Mode Quick Toggle allows you to easily switch between the last used custom profile and the default typing mode on your keyboard by pressing the FN + CTRL + ESC hotkey.
The Typing Mode Quick Toggle feature can also be controlled on Razer Synapse.