RAZER DEATHADDER V3 PRO
FOR THE PRO
Victory takes on a new shape with the Razer DeathAdder V3 Pro. Refined and reforged with the aid of top esports pros, its iconic ergonomic form is now more than 25% lighter than its predecessor, backed by a set of cutting-edge upgrades to push the limits of competitive play.
RESHAPING THE PRO SCENE
This is a carousel with panning animation. Use the Play and Pause button to start and stop the animation.
Ultra-lightweight
Zero Excess, Full Performance
With its incredible weight optimization, the Razer DeathAdder V3 Pro is one of the lightest ergonomic esports mice ever created—all while improving upon its user experience.
Mid-to-large sized mouse without weight and drag.

Split key cover for better click tactility.
Ergonomic Form
Honed to Perfection
Developed in partnership with top esports pros, the iconic shape of the Razer DeathAdder has been further improved to continue its legacy of award-winning handling and comfort.
Repositioned Buttons & Scroll Wheel

Raised Arch

Added Ring Finger Ledge

for better grip and support
Upgradeable To True 4000 Hz Wireless Polling Rate
Experience the fastest wireless performance ever with the Razer HyperPolling Wireless Dongle. Unlock a new standard of responsiveness with the ultimate upgrade for our most advanced mice, to secure the speed you need for top-flight competitive gaming.

Learn More > Buy Now >
Text appears: RAZER DEATHADDER V3 PRO
We open on a white mouse resting atop a green glowing pedestal made by ancient alien technology.
The screen glitches as the mouse now rests atop a high-tech weighing scale in a white futuristic lab.
Text appears: FOR THE PRO
The camera cuts to a closeup of the mouse, as we see strings of white pixels burst out from its base and off the weighing scale.
A closeup top-down of the weighing scale's display shows the WEIGHT of the mouse rapidly dropping from 78g to 64g.
Text appears: Ultra-lightweight design. 64g.
The camera zooms out as the mouse completes its WEIGHT optimization process.
Text appears: Over 25% lighter than Razer DeathAdder V2 Pro
We cut to another section of the lab where countless mouse prototypes are on display.
Text appears: Iconic ergonomics
A greenish-blue light turns on as all the prototypes become holographic, save for one in the center.
Text appears: Developed with pros
The holographic prototypes merge with the central model, causing its shape to morph.
From the side, the mouse's left side thumb buttons are raised slightly.
From the front, the mouse's top arch shifts to a more natural angle for Right-handed users.
From the top, the mouse's front flared design tapers into a more streamline shape.
The shot cuts wider as the mouse completes its ergonomic refinement process.
Text appears: Unrivalled handling and comfort
Green heatmaps appear on the mouse to indicate optimized points of contact, as a robotic hand reaches out to hold it.
The camera swivels to a low angle shot as the robotic hand performs a mouse click.
The lab suddenly turns dark as grids of red laser beams fan across the environment.
The mouse disassembles into an exploded view, revealing its internals to highlight the cutting-edge sensor.
Text appears: Razer Focus Pro 30K Optical Sensor
The shot zooms in to the sensor, as info overlays appear.
Text appears: World's Most Precise Optical Sensor, Max acceleration 70G, Max Speed 750 IPS, 30,000
DPI, 99.8% Resolution Accuracy
A grid of red lasers fan across the camera, as the mouse is transported from the lab to a futuristic esports arena.
The mouse clicks and transitions to a shot of its optical switch actuating, causing nearby panes of glass to shatter and the arena to lose power.
Text appears: Razer Optical Mouse Switches Gen-3, No Unintended Double-Clicks
A green glow fills the arena as a portal is opened.
The mouse blitzes through the portal, moving at such speed that it transforms into a green bolt of energy.
Text appears: Razer HyperSpeed Wireless, 25% Faster Than Other Wireless Gaming Mice
As it surges across an otherworldy cosmic dimension, we cut back to the arena where the mouse's wireless dongle powers up and emits a concentrated beam of green energy.
Text appears: Upgradeable to True 4000Hz Wireless Polling Rate, Razer HyperPolling Wireless Dongle sold separately
Boosted by the green beam, the mouse exits the dimension and materializes back into the arena—its sheer speed destroying the portal in the process.
The mouse floats high above the arena, pulling all electrical power from the environment into itself, causing the arena to go dark once again.
It expels the energy in a brilliant flash.
Text appears: Up to 90 Hours of Uninterrupted Gameplay, USB Type C Rechargeable
We cut to an esports gaming setup as a pair of Razer DeathAdder V3 Pros—one in white and one in black—float down to rest upon the desk.
Text appears: For the Pro, All Information Accurate as at Aug 2022
Text appears: Razer DeathAdder V3 Pro
Razer logo appears.
Razer Focus Pro 30K Optical Sensor
World's Most Precise Optical Sensor
Armed With Industry-leading Tech Specs:
Enhanced By Intelligent Functions:
UNLOCK ULTRA-FINE ADJUSTMENTS
Enable Asymmetric Cut-off to individually set a lift-off and landing distance that's tuned to your playstyle—with 26 granular levels of height adjustment compared to only 3 in the previous version.
AUTO-CALIBRATES ACROSS DIFFERENT SURFACES
With Smart Tracking, the Razer™ Focus Pro Optical Sensor is able to maintain a consistent lift-off distance no matter what surface it's used on, allowing for greater control and accuracy.
HIGHER RESPONSIVENESS & MORE CONSISTENT TRACKING
With Motion Sync, the Razer™ Focus Pro Optical Sensor syncs its signals to the exact intervals your PC extracts information, ensuring you'll get the most current updates of your mouse position for more consistent tracking.
Other Best-in-class Benefits:
IMPROVED SURFACE COMPATIBILITY

TRACKS FLAWLESSLY
ON GLASS*

BETTER POWER
EFFICIENCY
Powered To Perform
Razer Optical Mouse Switches Gen-3

90-million click lifecycle with No double-clicking issues.

Learn More >

Up To 90 Hours
Of Battery Life

Power through an insane amount of gaming with a USB Type C rechargeable design.

Razer HyperSpeed
Wireless

25% faster than other wireless tech, featuring multi-device support.

Learn More >
Loaded To Go
ON-MOUSE DPI CONTROL

Capable of toggling between 5 DPI stages without the need for software, you'll always be ready to compete anywhere with this highly portable, ultra-lightweight esports mouse.

ONBOARD MEMORY

The mouse stores and uses its last used Razer Synapse profile, including all calibrated settings such as:

– DPI
– Polling rate
– Lift-off distance

RAZER HYPERSHIFT

Effectively double your inputs at the touch of a button, as you activate an additional set of custom keybinds and DPI stage on the mouse.
30-DAY RISK-FREE TRIAL
Take the mouse for a test run while we cover your cost of return.
Learn More >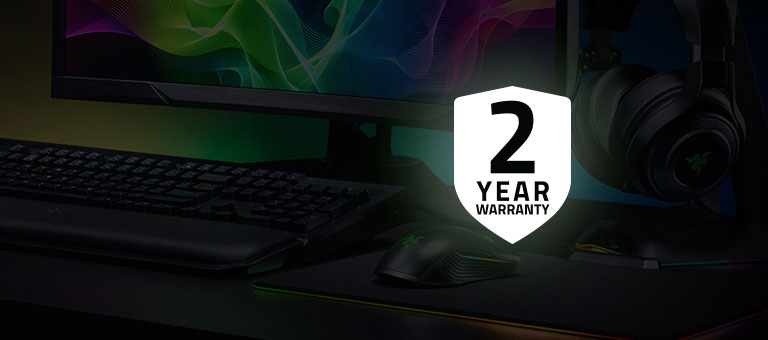 We've Got You Covered
Get up to 2 years of warranty and access reliable tech support. Purchase directly from RazerStore and get 30 days risk-free returns.
Actual product may differ from pictures.
FAQ
Does the Razer DeathAdder V3 Pro have onboard memory?

Yes, the Razer DeathAdder V3 Pro has a 1 onboard profile which is based off your last used Razer Synapse profile—including custom DPI settings, button configs, and more.

What is the polling rate for the Razer DeathAdder V3 Pro?

Default polling rate for the Razer DeathAdder V3 Pro is 1000 Hz. However, it is upgradeable to true 4000 Hz wireless polling rate with the Razer HyperPolling Wireless Dongle, sold separately here.

How do I remap buttons and customize settings for the Razer DeathAdder V3 Pro?

In order to configure button mappings, macros, lighting effects and more, you'll have to first download and install Razer Synapse 3.

What is the form factor of the Razer DeathAdder V3 Pro?

The Razer DeathAdder V3 Pro has a right-handed ergonomic shape.

What does the button at the bottom of the Razer DeathAdder V3 Pro do?

The button is used to toggle power (press and hold for 3 seconds to ON/OFF) and DPI (press and release). The factory DPI settings are set at 400, 800 (default), 1600, 2400, and 3200.

Does the Razer DeathAdder V3 Pro have a tilt-click scroll wheel?

No, the Razer DeathAdder V3 Pro does not feature a tilt-click scroll wheel.

Are replacement parts available for this product?

Does this have Razer HyperSpeed Wireless Multi-device support?

Yes, the standard dongle that comes with the mouse has multi-device support. For more information, visit here.