RAZER BLACKWIDOW V4 PRO
FULL-BLOWN BATTLESTATION IMMERSION
Empower your play with a centerpiece that elevates your entire setup. Enter the next phase of battlestation evolution with the ultimate mechanical gaming keyboard. Take full command with a set of features designed for advanced control, and enhance your immersion with full-blown Razer Chroma™ RGB.
Text appears: RAZER BLACKWIDOW V4 PRO
A mechanical keyboard floats in a dark void, as a pulse of Razer Chroma RGB travels across its keys and causes the environment to light up.
The RAZER BLACKWIDOW V4 PRO is revealed to be floating atop a futuristic circular platform made of large RGB metal rings.
As the rings activate and swirl around the keyboard like a gyroscope, the camera pulls out to a wide shot.
Text appears: Full-blown battestation immersion
The camera zooms to a close-up of the keyboard—its keycaps floating upwards to reveal yellow mechanical switches.
Text appears: Razer Mechanical Switches, Linear
The keyboard does a 180 flip, this time showing green mechanical switches.
Text appears: Or Clicky
With every press of the switches, we see brilliant flashes of Razer Chroma RGB.
As the keycaps float back down to the keyboard, the camera shifts downwards to capture a magnetic wrist rest snapping satisfyingly into place.
Text appears: Magnetic plush leatherette wrist rest
In that instant, a strong wave of RGB light is released from the keyboard, as it starts to pulse and glow intensely.
Text appears: Keyboard & wrist rest underglow, powered by Razer Chroma RGB
The camera turns upside down and zooms into the wrist rest's underglow, entering and riding on a series of colorful RGB waves.
The camera pops back out from the top left corner of the keyboard, highlighting an all-aluminum dial and a row of macro keys and buttons.
Text appears: Razer Command Dial & 8 dedicated macro keys, MAXIMUM COMMANDS AT YOUR FINGERTIPS
We Zoom in close to the dial, which begins rotating and clicking.
As the dial rotates, we realize that its controlling the Zoom of the camera.
With a quick click, the dial changes color and starts rotating again.
This time it controls the video's music track, causing it to jog and skip.
With another click, the dial changes color and continues rotating, causing the RGB lights in the entire scene to turn from dark to light.
The camera shifts over to the top right side of the keyboard, where we see a roller and 4 media keys.
Text appears: Multi-function roller & 4 media keys
Our view pulls out wider as the roller enters an alternate dimension, where we see countless strings of black energy attached to it.
As the roller starts to roll, we notice the music track slowing down and speeding up again.
The camera punches back out to the full keyboard, still floating amongst a platform of rotating RGB rings.
Text appears: Full-blown battestation immersion
In unison, the rings fold back into a single flat platform, as our eye is drawn back to the keyboard glowing brightly with Razer Chroma RGB.
Text appears: RAZER BLACKWIDOW V4 PRO
Razer logo appears.
IMMERSIVE UNDERGLOW AND PER-KEY LIGHTING
POWERED BY RAZER CHROMA™ RGB
Featuring per-key lighting and a striking underglow that highlights the keyboard from more angles, sync it with your battlestation and enjoy greater immersion for hundreds of integrated games.
RAZER™ COMMAND DIAL AND 8 DEDICATED MACRO KEYS
MAXIMUM COMMANDS AT YOUR FINGERTIPS
Assume greater control over your battlestation by assigning a custom function to the keyboard's programmable dial. Game with greater command using a set of macro keys for essential keybinds.
Press the dial to toggle between each mode or hold SHIFT while pressing to return to the previous one. Easily identify which mode the dial is currently on with mode-specific backlight.
Keyboard Brightness
Adjust the level of Razer™ Chroma RGB lighting.
Zoom
Zoom in on documents, browser windows, or creative canvases.
Switch Apps
Instantly switch screens between different programs
Switch Browser Tabs
Hop from tab to tab on your browser.
Track Jogging
Go forward or rewind in 5-second intervals.
Track Selector
Navigate through your playlist effortlessly.
Horizontal Scroll
Easily scroll across wide documents, browser windows, or creative canvases.
Vertical Scroll
Easily scroll through long documents, browser windows, or creative canvases.
Experience truly granular control with a dial featuring 30 steps per revolution, finished with a machined texture along its sides for better grip.
Create and store up to 100 modes via Razer Synapse. Assign a dedicated backlight for your custom mode and map any function to the clockwise and anti-clockwise turns of the dial.
RAZER™ MECHANICAL SWITCHES
QUICK, PRECISE EXECUTION
Choose between two switches that offer their own distinct feel—the Green Switch for precise actuation with clicky, tactile feedback, or the Yellow Switch for quick actuation that's smooth and silent.
MAGNETIC PLUSH LEATHERETTE WRIST REST WITH UNDERGLOW
EXTRA GAMING COMFORT AND FLAIR
Designed to provide secure support for long hours of play, the soft, cushioned wrist rest also features Razer Chroma™ RGB—which perfectly lines up with the keyboard's underglow.
DOUBLESHOT ABS KEYCAPS
WITHSTANDS INTENSE USE
Using a doubleshot molding process to ensure the labelling never wears off, the keycaps also have extra-thick walls which make them extremely tough to withstand intense gaming.
MULTI-FUNCTION ROLLER AND 4 MEDIA KEYS
CONVENIENT CONTROL
Pause, play, skip and tweak everything from brightness to volume—the ultimate convenience as you enjoy your entertainment.
OTHER TOP-TIER FEATURES
USB PASSTHROUGH

Connect a mouse or headset conveniently to your PC via a USB port on the keyboard.

DETACHABLE TYPE C CABLES

Comes with 2 braided Type A to Type C cables for standard keyboard connection and USB passthrough.

5052 ALUMINUM ALLOY CONSTRUCTION

Greater build durability with a refined finish.

ENHANCED KEYBOARD ACOUSTICS

Satisfying sound profile with pre-lubed stabilizers and 2 layers of internal sound dampening foam.

UP TO 8000 HZ POLLING RATE

The fastest response for an edge in competitive gaming.

5 ONBOARD MEMORY PROFILES

Save any number of custom profiles to the cloud and store up to 5 of your favorite ones on the keyboard.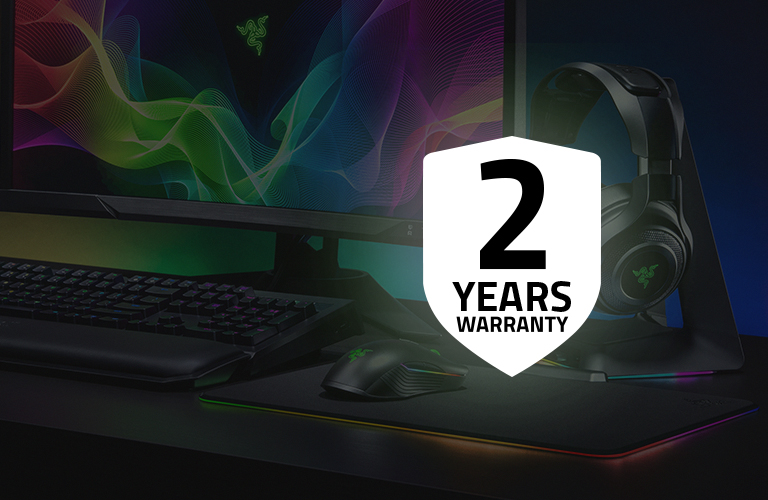 We've Got You Covered
Get up to 2 years of warranty and access reliable tech support. Purchase directly from RazerStore and get 14 days risk-free returns.
FAQS
How many dedicated macro keys are there on the Razer BlackWidow V4 Pro?

There are a total of 8 macro keys and buttons. 5 keys are located on the left of the keyboard, while the 3 buttons are located along the left edge of the keyboard.

Do I need to connect the wrist rest via USB for it to have underglow?

No, the wrist rest's underglow will work when it is magnetically attached to the keyboard. No additional connection is required.

What does the Razer™ Command Dial do?

The Razer™ Command Dial allows you to conveniently control 8 other functions on your PC aside from volume. Using Razer Synapse, it can be programmed beyond its default functions in Custom Mode.

Do I need Razer Synapse for the Razer™ Command Dial to work?

The default 8 functions of the Razer™ Command Dial can work without Razer Synapse active. However, Razer Synapse is required to use the dial in Custom Mode.

Is the Razer BlackWidow V4 Pro a wireless keyboard?

No, the Razer BlackWidow V4 Pro does not have wireless connectivity.