RAZER DEATHADDER V3
FOR THE PRO
Victory takes on a new shape with the Razer DeathAdder V3. Refined and reforged with the aid of top esports pros, its iconic ergonomic form is now more than 25% lighter than its predecessor, backed by a set of cutting-edge upgrades to push the limits of competitive play.
WIRED FOR PERFORMANCE
Razer™ 8K Hz HyperPolling Technology
Experience unrivalled responsiveness with a mouse capable of sending up to 8 times more data in a second, effectively reducing input delay from 1 to 1/8th of a millisecond—the edge every pro needs to stay ahead of the competition.
ULTRA-LIGHTWEIGHT AT 59G
Zero Excess, Full Performance
With its incredible weight optimization, the Razer DeathAdder V3 is one of the lightest ergonomic esports mice ever created—all while improving upon its user experience.
Mid-to-large sized mouse without weight and drag.

Split key cover for better click tactility.
Ergonomic Form
Honed To Perfection
Developed in partnership with top esports pros, the iconic shape of the Razer DeathAdder has been further improved to continue its legacy of award-winning handling and comfort.
REPOSITIONED BUTTONS & SCROLL WHEEL

RAISED ARCH

ADDED RING FINGER LEDGE

for better grip and support
Razer Focus Pro 30K Optical Sensor
World's Most Precise Optical Sensor
ARMED WITH INDUSTRY-LEADING TECH SPECS:
ENHANCED BY INTELLIGENT FUNCTIONS
UNLOCK ULTRA-FINE ADJUSTMENTS
Enable Asymmetric Cut-off to individually set a lift-off and landing distance that's tuned to your playstyle—with 26 granular levels of height adjustment compared to only 3 in the previous version.
AUTO-CALIBRATES ACROSS DIFFERENT SURFACES
With Smart Tracking, the Razer™ Focus Pro Optical Sensor is able to maintain a consistent lift-off distance no matter what surface it's used on, allowing for greater control and accuracy.
HIGHER RESPONSIVENESS & MORE CONSISTENT TRACKING
With Motion Sync, the Razer™ Focus Pro Optical Sensor syncs its signals to the exact intervals your PC extracts information, ensuring you'll get the most current updates of your mouse position for more consistent tracking.
OTHER BEST-IN-CLASS FEATURES
SMOOTH
TOUCH FINISH

The mouse is coated with an all-new finish that feels soft and smooth, yet remains easy to grip.

Razer Optical Mouse Switches Gen-3

90-million click lifecycle with no double-clicking issues and a blistering 0.2ms actuation.

Learn More >

RAZER
SPEEDFLEX CABLE

Woven for greater flexibility and designed to produce minimal drag.

8 PROGRAMMABLE CONTROLS

Includes 6 fully configurable buttons for macros and shortcuts, including a function to toggle between 5 DPI stages.

5 ONBOARD MEMORY

The mouse stores up to 5 profiles as well as the last used Razer Synapse profile, including all calibrated settings such as:

- DPI
- Polling rate
- Lift-off distance

RAZER HYPERSHIFT

Effectively double your inputs at the touch of a button, as you activate an additional set of custom keybinds and DPI stage on the mouse.
30-DAY RISK-FREE TRIAL
Take the mouse for a test run while we cover your cost of return.
Learn More >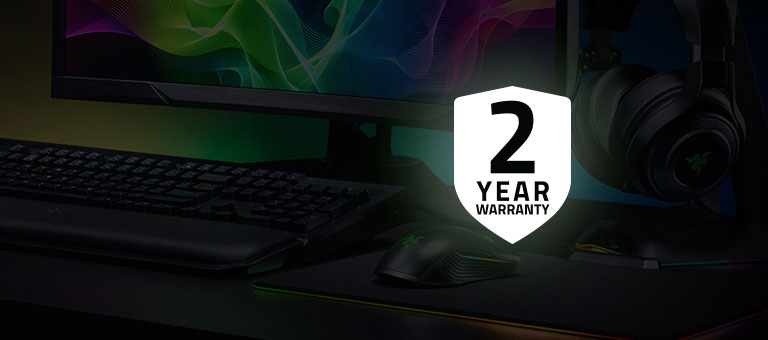 We've Got You Covered
Get up to 2 years of warranty and access reliable tech support. Purchase directly from RazerStore and get 30 days risk-free returns.
FAQ
What polling rate stages can I set on the Razer DeathAdder V3?

You can configure Synapse your preferred polling rate stages on Razer Synapse 3 at 125/500/1000 (default)/2000/4000/8000 Hz steps.

To test your mouse polling rate, download the test software.

For optimal performance, please ensure to plug the mouse directly to an available USB port on your PC, close background programs and move your mouse in a circular motion when starting to test it within the application.

What is the form factor of the Razer DeathAdder V3?

The Razer DeathAdder V3 has a right-handed ergonomic shape.

Does the Razer DeathAdder V3 have onboard memory?

Yes, the Razer DeathAdder V3 has 5 onboard profiles which is based off your last used Razer Synapse profile—including custom DPI settings, button configs, and more.

How do I remap buttons and customize settings for the Razer DeathAdder V3?

In order to configure button mappings, macros and more, you'll have to first download and install Razer Synapse 3 .

Does the Razer DeathAdder V3 have a tilt-click scroll wheel?

No, the Razer DeathAdder V3 does not feature a tilt-click scroll wheel.

What are the differences between the Razer DeathAdder V3 and the V3 Pro?

The Razer DeathAdder V3 is a wired variant that has a true 8000 Hz polling rate and features a smooth touch finish.
Disclaimer:
Actual product may differ from pictures.