ABOUT RAZER
Razer™ is the world's leading lifestyle brand for gamers.
The triple-headed snake trademark of Razer is one of the most recognized logos in the global gaming and esports communities. With a fan base that spans every continent, the company has designed and built the world's largest gamer-focused ecosystem of hardware, software and services.
Razer's award-winning hardware includes high-performance gaming peripherals and Blade gaming laptops.

Razer's software platform, with over 175 million users, includes Razer Synapse (an Internet of Things platform), Razer Chroma RGB (a proprietary RGB lighting technology system supporting thousands of devices and hundreds of games/apps), and Razer Cortex (a game optimizer and launcher).

Razer also offers payment services for gamers, youth, millennials and Generation Z. Razer Gold is one of the world's largest game payment services, and Razer Fintech provides fintech services in emerging markets.

Founded in 2005, Razer is dual headquartered in Irvine (California) and Singapore with regional headquarters in Hamburg and Shanghai. Razer has 19 offices worldwide and is recognized as the leading brand for gamers in the USA, Europe and China.
History
At CES 2022, Razer brought home a Best of CES award for the tenth consecutive year and introduced a new generation of Razer Blade gaming laptops, as well as Razer Enki HyperSense and Project Sophia modular gaming desk concept.
Razer acquired Interhaptics, a software company specializing in Haptics Solutions. The Interhaptics SDK and developer tools were also made available to game studios and developers to use for free.
As part of Razer's #GoGreenWithRazer 10-year roadmap, Razer announced Restorify, a traceable carbon neutral checkout solution allowing consumers to meaningfully take climate action by enabling them to offset their purchases.
Razer also celebrated World Environment Day by announcing the world's first ECOLOGO-certified Gaming Mice – the Basilisk V3 and the DeathAdder Essential that passed UL2710, the Outline of Investigation for Sustainability for Portable Electronics, which certifies them as sustainable products.
The Razer HyperPolling Wireless Dongle was launched and introduced as the first wireless mouse dongle capable of true 4000Hz wireless polling rate.
At RazerCon 2022 – a digital celebration For Gamers. By Gamers, Razer also announced a new luxury watch with Panerai, the first of its kind as part of a groundbreaking partnership with the watch maker. In addition, the brand also announced multiple new products such as the Razer Edge, Razer Kraken Kitty V2 Pro, Razer Enki Pro Automobili Lamborghini Edition and many more.
Razer takes home the Best of CES for the ninth time.
Razer introduces New 8KHz HyperPolling technology to power the Razer Viper 8K, the world's fastest gaming mouse.
Under the #GoGreenWithRazer banner, Razer commits to a 10-year sustainability roadmap for a greener, more sustainable future for all to game in.
Razer holds the inaugural Razer DevCon to drive industry innovation and cutting-edge feature integration across the Razer ecosystem, bringing developers closer to gamers.
At E3 2021, Razer headlines the world's biggest gaming showcase with an interactive extended reality keynote presentation.
The Razer Blade 14 returns as the world's most powerful 14-inch gaming laptop, and is the first Blade to ever feature an AMD processor.
Razer crowned Best of CES for the eighth year, winning two official Best of CES awards for the Razer Kishi Universal Mobile Gaming Controller.
Razer launches latest generation Razer Blade laptops featuring up to 300Hz screens, NVIDIA® GeForce RTX SUPER™ GPUs, and 8-Core 10th Gen Intel® Core™ i7 processors.
Razer founds Razer Health initiative in the face of the global COVID-19 pandemic, setting up surgical mask production line in Singapore, donating masks to governments, healthcare organizations, and individuals around the world.
Razer's THX Spatial Audio App is made available for every brand of headphones, bringing THX-tuned positional audio to every PC gamer on the planet.
Razer brings performance, durability and comfort to the workspace with a New line of productivity-focused products including the Razer Pro Click mouse designed in collaboration with Humanscale, Razer Pro Type keyboard, and the Razer Book 13 productivity laptop.
Razer introduces the Razer Invitationals, an inclusive global esports tournament series open for gamers of all skill levels.
Razer's inaugural RazerCon digital event and mixed-reality keynote captivates fans across the world.
Razer crosses the US$1B revenue milestone and turns profitable ahead of all expectations in FY2020.
Razer opens Razer Fintech HQ office in Kuala Lumpur to strengthen Malaysia as Razer's regional center of FinTech innovation.
Razer Pay e-wallet service for youth and millennials expands into Singapore.
Razer Fintech submits bid in Singapore to build world's first global youth bank targeting youth and millennials.
Razer introduces Chroma Connect, opening up easy access to Razer Chroma for all partners.
Razer DeathAdder, the multi-award winning iconic gaming mouse crosses milestone 15 million units sold worldwide since launch.
Razer launches Razer Blade Studio Edition laptops powered by NVIDIA Quadro RTX 5000 graphics designed for content creators.
Razer expands its product offering with RESPAWN, an all-new mental performance drink for gamers, in the United States.
Razer launches ultra-lightweight gaming mouse Razer Viper with improved industry-leading optical sensor.
Razer introduces new flagship wireless gaming mice Razer Viper Ultimate and Razer Basilisk Ultimate with market leading wireless technology adopted by top esports athletes.
Razer significantly expanded the geographical presence of Razer Gold to more than 130 countries worldwide.
Razer becomes the official esports partner of the 30th SEA Games, equipping 5 National Teams across 6 medaled games.
Razer opens two additional flagship RazerStore locations in Las Vegas, USA and London, UK.
Razer takes home over 20 "Best of CES" 2018 awards combined for its Project Linda Mobile computing prototype, and new wireless HyperFlux mouse and mat technology.
Razer Chroma, the world's largest lighting ecosystem for gaming devices expands beyond Razer devices through strategic partnerships with Philips Hue, MSI, NZXT, AMD, and many more to enable a unified gaming experience.
Razer Pay e-wallet service for youth and millennials launches in Malaysia.
Razer launches the world's smallest 15.6-inch gaming laptop, the Razer Blade 15, featuring GTX1070 graphics and a 144Hz screen.
Razer Phone 2 launches with latest flagship components, thermal cooling solutions, and Razer Chroma.
Razer launches new flagship Razer Huntsman gaming keyboard line featuring Razer's groundbreaking Opto-Mechanical™ Switch.
Razer launches the new THX-certified Razer Nommo speaker line, providing full-range audio immersion for movies, music and gaming.
Global 'This is Esports' brand campaign launches with all Team Razer athletes and teams.
In partnership with Three Hong Kong, the sixth RazerStore opens in Hong Kong.
Razer establishes global partnerships with CK Hutchison's Three Group and MOL AccessPortal.
Razer launches zGold and zSilver services, known together as zVault.
Razer wins "Best of CES" for the seventh year running for Project Ariana for the "Best Gaming" category, as well as the "People's Choice Award".
Razer launches the Razer Lancehead — the world's most advanced wireless gaming mouse.
The Razer Panthera is the official fighting stick of the Capcom Pro Tour.
Razer acquires Nextbit.
Fourth and fifth RazerStores open in San Francisco, USA and Shanghai, China.
Razer wins "Best of CES" for the sixth year running for the Blade Stealth laptop for the "Best PC" category, as well as the "People's Choice Award".
Razer launches zVentures, earmarks up to $30 Million for startups and emerging tech.
OSVR announces $5 million developer fund.
Razer launches world's first ultra-low-profile mechanical keyboard switch.
Razer launches its first licensed PlayStation peripherals — the Razer Raiju esports controller and Razer Panthera arcade stick.
Razer launches the Razer Ornata, the world's first mechanical-membrane keyboard, at Pax West.
Razer launches Overwatch, Deus Ex and Tomb Raider Licensed Razer peripherals.
Team Razer's SKT Telecom T1 wins League of Legends Worlds Championship for the third year in a row.
Razer acquires THX Ltd.
First RazerStore opens in Taipei, Taiwan.
Second and third RazerStores open in Manila, Philippines and Bangkok, Thailand.
Razer wins "Best Gaming" at CES with the Razer Forge TV, an Android TV micro-console, as well as "People's Choice" for the fifth year running.
Team Razer signs Call of Duty teams, Team eLevate, Prophecy, and Automatic Reload.
Team Razer sponsors the world's largest extreme sports event featuring esports, the MLG X Games, where Team eLevate takes the bronze.
Team Razer sponsors 2013 League of Legends (LoL) World Champions, SK Telecom T1, widely regarded as the world's most dominant LoL team, and home to the renowned Lee "Faker" Sang-hyeok.
Razer Music initiative launches.
Razer announces another world's first — the Razer Nabu, a wearable device capable of notifications, fitness tracking, band-to-band social connectivity, and gamification.
Project Christine wins "Best PC" at CES. And for the fourth consecutive year, Razer scores the "People's Choice" award.
Co-founder Robert Krakoff steps down from active President role to an advisory role as President Emeritus.
Razer launches its first product for streamers and broadcasters — the Razer Seiren digital microphone.
Razer teams up with NZXT™ and produces the first product of their collaborative program, the NZXT H440 — Designed by Razer.
Team Razer snags over 280 podium placements and nets US$4 million in prize money.
Team Razer sponsors premier Korean professional gaming team, KTRolster. The team is home to one of the most accomplished esports athletes of all time, Lee "Flash" Young Ho, also known as "God".
Razer wins "Best of Show" at CES with the Razer Edge, the world's most powerful tablet, along with the "People's Voice" award.
Together with Evil Geniuses, Team Razer co-founds Alliance. The team goes on to win Valve's esports tournament, The International 3, and is awarded over US$1 million in prize money.
The world's first professional Hearthstone player, Jeffrey "Trump" Shih, joins Team Razer.
Team Razer snags over 180 podium placements throughout the year and nets US$3.5 million in prize money.
Razer unveils the Razer Blade, the world's thinnest gaming laptop.
Razer releases Razer Synapse, the world's first cloud-based storage for personalized game settings.
Project Fiona, the gaming PC and tablet hybrid, makes its debut at CES.
Razer dominates at CES, winning four awards with Project Fiona and the Razer Blade.
Razer launches the Kraken line — its bestselling family of ergonomic PC gaming headsets.
Taipei Assassins, an esports team under Razer sponsorship, wins the RIOT Season 2 finals and takes home $1,000,000.
Team Razer grows to more than 400 strong, comprising over 50 competitive gaming teams from 35 countries, and nets a total of US$3 million in prize money.
Razer's technology center opens in Austin, Texas.
Razer opens next R&D center in Taipei, Taiwan.
The Razer Onza, a gaming controller for Xbox 360, revolutionizes Console esports and earns rave reviews and awards.
The first of Razer's systems, the Razer Switchblade Concept, wins the prestigious Best of CES — People's Voice award.
Razer partners with one of the early names in esports — Team Liquid, a StarCraft II professional team.
Team Razer sponsors South Korean StarCraft: Brood War esports athlete and national celebrity, SlayerS_BoxeR, as well as two PvE World of Warcraft guilds, Manaflask and Method.
Razer sponsors IGN's official esports league in Las Vegas, the IGN Pro League 3.
LGD, one of China's largest esports organization and home to a world elite Dota 2 team, joins Team Razer.
Razer establishes China regional headquarters in Shanghai, China.
Razer launches the Razer Megalodon 7.1 flagship headset.
Razer increases esports investment and sponsors top Korean pro-gaming organization, WeMade FOX — home to top esports talents in Warcraft III and Counter-Strike 1.6.
Razer's first mechanical gaming keyboard, the Razer BlackWidow, surpasses all others in performance and popularity.
Razer moves its global co-headquarters from San Diego to San Francisco, California.
Engineered with the world's first gaming-grade wireless technology, the Razer Mamba makes headlines as the fastest mouse of its time.
Razer launches Razer Sphex esports edition mouse mats with Sky, Team Dignitas, MeetYourMakers, and Mousesports.
Razer opens R&D center in San Francisco, California.
Team Razer Warcraft III esports athletes Xiao Feng "Sky" Lu and Jaeho "Moon" Jang both bear the Olympic torch at the Beijing 2008 Olympics.
Razer sponsors one of the world's most dominant esports teams, Evil Geniuses — home to Warcraft III legend, Manuel "Grubby" Schenkhuizen, and Quake veteran, Paul "czm" Nelson.
Razer sponsors the first Team Liquid StarLeague, a highly-popular non-Korean StarCraft: Brood War tournament run by one of the world's largest StarCraft communities.
Razer expands to Europe and establishes regional European HQ in Hamburg, Germany.
Razer launches the flagship Razer Lycosa gaming keyboard.
The Razer Mako 2.1 debuts at CES as the first desktop speaker system to incorporate THX Ground Plane™ and THX Slot Speaker™ technologies.
In collaboration with Microsoft, Razer designs the Habu gaming mouse and Reclusa gaming keyboard, and markets them under the Microsoft/Razer co-brand.
Razer sponsors esports team, Fnatic — home to professionals such as Sander "Vo0" Kaasjager, winner of more than half of all Cyberathlete Professional League (CPL) World Tour stops.
The Razer DeathAdder gaming mouse launches and becomes the bestselling gaming mouse in the world, and one of Razer's most iconic products to date.
Founding of Razer by MIN-LIANG TAN and Robert Krakoff.
The establishing of dual headquarters in San Diego, California and Singapore.
Razer launches the flagship Razer Diamondback gaming mouse.
Management Team
MIN-LIANG TAN
Co-Founder & CEO
Mr. Min-Liang Tan is the co-founder of Razer and has served as the Chief Executive Officer since September 2006. In addition to his role as Chief Executive Officer, he also serves as the Creative Director and is responsible for directing and overseeing the design and development of all the products at the Company.

Mr. Tan was designated as an Executive Director and was appointed as the Chairman of the Board in June 2017. He is also a member of the Remuneration Committee of the Company.

Under his leadership, Razer grew from a two-man startup to a multinational market leader that was honored on Fortune Magazine's "Unicorn List" in 2015 (private companies valued at US$1 billion or more), before its successful IPO in November 2017.

Mr. Tan graduated from the National University of Singapore with a Bachelor's Degree in Law.
KHENG JOO KHAW
Chief Operating Officer
Mr. Kheng Joo Khaw has served as the Chief Operating Officer since June 2012.

Prior to Razer, Mr. Khaw was the Chief Executive Officer of MediaRing Ltd, a VoIP and computing services company. Mr. Khaw started his career with Hewlett Packard and was the General Manager of the Handheld Computing Product Division, pioneering in Smartphone with ARM architecture. In addition, Mr. Khaw has served as the President of Omni Electronic as well as the Senior Vice President of Celestica (Canada).

Mr. Khaw has also served on the Boards of companies across a range of industries. These include Multi-Fineline Electronix (US), Senoko Power, Singapore Airport Terminal Services Ltd, Total Automation Ltd, Amtek Engineering Ltd and Singapore Economic Development Board.

Mr. Khaw holds a Diploma from Singapore Polytechnic, a BSEE from Oregon State University and an MBA from Santa Clara University.
CHONG NENG TAN
Executive Director & Chief Financial Officer
Mr. Chong Neng Tan serves as the Chief Financial Officer of Razer and was also appointed as an Executive Director with effect from March 24, 2020. Prior to this appointment, Mr. Tan was Senior Vice President, Corporate Controller of the Company from November, 2017 to December, 2019.

A finance veteran of more than 20 years, Mr. Tan was the Group Chief Financial Officer of the Tri-Star Group prior to joining Razer. He also served as the Chief Operating Officer and Chief Financial Officer of Stanley Security Solutions in Asia Pacific.

Mr. Tan holds an MBA from Manchester Business School and a Bachelor of Accountancy from Nanyang Technological University and is a Chartered Accountant (Singapore).
BOB OHLWEILER
Senior Vice President of Global Sales and Marketing
Mr. Bob Ohlweiler is responsible for leading Razer's regional sales and marketing operations. He is also in charge of Razer's global Direct-to-Consumer business such as Razer.com and the company's growing network of retail brand stores.

Mr. Ohlweiler has nearly 30 years of digital media sales, channel and direct to consumer sales, marketing, business development and general management experience. Prior to joining Razer, Mr. Ohlweiler led Kodak's consumer business in Europe, Africa and the Middle East and previously, business unit Chief Operating Officer in Kodak Singapore and as Global VP of Marketing for a Kodak digital imaging business unit. Mr. Ohlweiler also led sales and marketing operations at Hewlett-Packard Americas.

Mr. Ohlweiler holds a Master's Degree in Management from Purdue University and a Bachelor's Degree in Business Administration from Norwich University.
LI MENG LEE
Chief Strategy Officer
Mr. Li Meng Lee is the Chief Strategy Officer at Razer. He is responsible for the development and execution of Razer's corporate strategy, such as the brand's strategic initiatives, partnerships and broader entertainment segments to advance the buildout of Razer's ecosystem of hardware, software, and services. He is also the CEO of Razer Fintech.

Mr. Lee brings over 15 years of corporate finance experience in mergers and acquisitions, as well as capital markets advisory and an invaluable network of contacts. Prior to joining Razer, Mr. Lee was a Managing Director at Evercore Singapore. and previously held senior positions as Head of Singapore Debt Capital Markets at ANZ, Principal at CMIA Capital Partners, and Vice President at J.P. Morgan where he served for eight years.

Mr. Lee holds a Bachelor of Science in Industrial Engineering & Operations Research from Columbia University, New York.
Choo Wei-Pin
Chief Corporate Officer
Mr. Wei-Pin Choo is the Chief Corporate Officer at Razer responsible for Global Government Relations, and Legal and Regulatory Affairs. He joined Razer as VP, Legal and Corporate Development in 2015.

Mr. Choo also serves on the board of various subsidiaries in Razer, such as Razer Ventures Holdings Pte. Ltd. and Razer Fintech Holdings Pte. Ltd. as well as on the Investment Committee. During his tenure at Razer, he has led a number of investments including THX Inc., Shield and the entities now called Razer Gold and Razer Fintech. He was instrumental in the establishment of zVentures and the listing of Razer on the Hong Kong Exchange in 2017.

Mr. Choo has been recognized by various bodies as a leading legal practitioner. Prior to joining Razer, he was Senior Vice President and Head of Legal, and Secretariat of CapitaMalls Asia Limited, following which Mr. Choo served as Senior Vice President, Legal of CapitaLand Limited until 2014.

Mr. Choo graduated from the University of Leicester with a Bachelor's degree in Law in May 1996 and completed the Master of Business Administration program at The Anderson School at the University of California, Los Angeles in June 2002.
PATRICIA LIU
Chief of Staff
Ms. Patricia Liu is Razer's Chief of Staff, responsible for leading the company's strategic planning and overseeing large, cross-functional organization-wide projects and initiatives. In addition to being a strategic partner to the top management, Ms. Liu plans and directs all administrative, IT, eCommerce, ESG and customer advocacy activities in Razer.

Ms. Liu also serves as a Director in certain subsidiaries of the Company, namely MOL Global Inc., MOL AccessPortal Sdn. Bhd., MOLPay Sdn. Bhd., and MOL Holdings (Thailand) Co Ltd.

Prior to joining Razer, Ms. Liu was the Managing Director of Omega Engineering, a precision instrumentation and controls company and spent 15 years in Hewlett Packard, where she served in various positions including Vice President and General Manager of Sales Operations, Chief of Staff in the Asia Pacific Global Operations and Information Technology group.

Ms. Liu holds a Bachelor of Business Administration from the National University of Singapore and an Executive Diploma in Board Directorship from the Singapore Management University.
Sustainability
At Razer, we play hard, we play fair, and we want to ensure the world remains an arena we can all continue to play in. All of us need to do our part in making our world a better place, and we are taking responsibility through our #GoGreenWithRazer initiative to drive towards a sustainable future.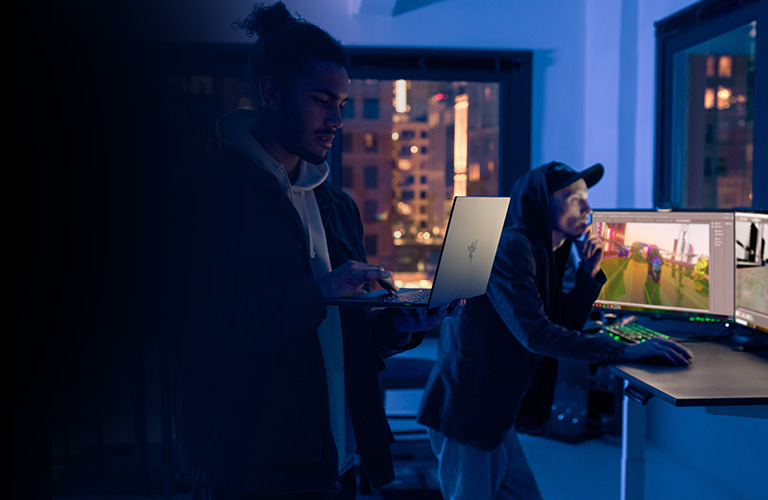 Careers
BE PHENOMENAL. JOIN US.
As a part of Razer, you'll be at the forefront of the most exciting industry in the world—video games. And you'll be undertaking the greatest mission of all: bringing gamers closer to the games they love. Razer is a company made up of gamers. We excel because gamers rely on teamwork, are wicked problem-solvers and tenacious about reaching their goals, whether it's beating a raid boss or launching a product. So if you've always been up for a real challenge, this is your chance.
zVENTURES
zVentures is Razer's corporate ventures arm and an integral component of Razer's strategic investments activities. We focus on companies that have or will have a role to play within the larger Razer ecosystem. In addition to providing capital, we help our companies interface with Razer by allowing them access to Razer's network of suppliers and OEMs, customers and investors, as well as allowing them to meet other stakeholders, industry leaders and influencers.