RAZER DEATHSTALKER V2 PRO TENKEYLESS
LOW-PROFILE ERGONOMICS.
HIGH-PERFORMANCE WIRELESS.
Top-tier performance and durability is more compact than ever with the Razer DeathStalker V2 Pro TKL—a wireless ultra-slim tenkeyless optical keyboard. Featuring low-profile switches and Razer™ HyperSpeed Wireless for ultra-responsive gaming, all housed within a compact, yet incredibly durable build.
RAZER™ LOW-PROFILE OPTICAL SWITCHES
ULTRA-FAST, ULTRA-RELIABLE ACTUATION
Armed with the same lightning-fast response that's a hallmark of all our optical keyboards, perform quicker keystrokes with all-new switches that have a shorter actuation height for reduced key travel, backed by a 70-million keystroke lifespan for long-lasting performance.
RAZER™ LINEAR LOW-PROFILE OPTICAL SWITCH
TOP-CLASS CONNECTIVITY
RAZER™ HYPERSPEED WIRELESS AND BLUETOOTH 5.0
Ultra-low-latency Gaming
Experience ultra-low-latency gaming with an industry-leading 2.4GHz connection that's 25% faster than other wireless tech.
MULTI-DEVICE SUPPORT

Streamline your setup by pairing a compatible mouse to the same wireless USB dongle used by the keyboard.

Seamless Dongle Storage

A compartment underneath the keyboard allows the dongle to be tucked away neatly for easy storage when travelling.
Versatile And Convenient
Use the wireless keyboard on your PC, tablet, and more, as you seamlessly switch between devices via 3 quick-access profile buttons.



Use the wireless keyboard on your PC, tablet, and more, as you seamlessly switch between devices via 3 quick-access profile buttons.
ULTRA-LONG 50-HOUR BATTERY LIFE
NON-STOP USE
With impressive power efficiency to support its optical switches and bright RGB backlight, the Razer DeathStalker V2 Pro Tenkeyless has a battery life that outlasts mechanical keyboards which require far less power.
ULTRA-SLIM CASING WITH DURABLE ALUMINUM TOP PLATE
LONG-LASTING ERGONOMICS
The keyboard's slim profile ensures neutral hand positioning for long hours of use with little strain, while its aluminum alloy top plate provides greater durability with a satisfying heft.
Laser-etched Keycaps With
Ultra-durable Coating
ULTIMATE FADE AND SCRATCH RESISTANCE
Designed to be tougher than doubleshot ABS keycaps, with legends that look super sharp and clean. Also features backlit secondary legends for more convenient typing, and per-key RGB that shines brightly and evenly to produce 100% RGB backlight.
MULTI-FUNCTION ROLLER AND MEDIA BUTTON
CONVENIENT CONTROL
Configure them to pause, play, skip and tweak everything from brightness to volume—the ultimate convenience as you enjoy your entertainment.
This is a carousel. Use the slide dot buttons to navigate into any slide.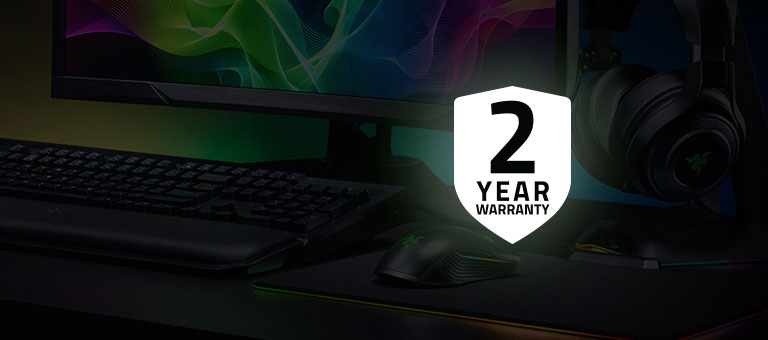 We've Got You Covered
Get up to 2 years of warranty and access reliable tech support. Purchase directly from RazerStore and get 14 days risk-free returns.
FAQS
Can I change the keyboard's Chroma lighting effects without Razer Synapse 3?

Yes, you can change the lighting effects to any of the six on-board preset lighting effects. Hold FN + Ctrl and press any one of the number keys from 2 to 7 to toggle different Chroma effects. FN + Ctrl + 1 will turn off all backlighting on the keyboard.

How do I check the battery life status on the Razer DeathStalker V2 Pro Tenkeyless?

Using the hotkey FN + End, a series of 4 LED lights found above the keyboard's arrow keys will turn on to reflect the current battery status of the keyboard. Each LED light represents approximately 25% of battery.

How do I pair the Razer DeathStalker V2 Pro Tenkeyless and a compatible Razer mouse to a single USB dongle?

You can do this through the Razer Synapse 3 software. Please visit our support site for a step-by-step guide to multi-device pairing.

How do I remap the keys on the Razer DeathStalker V2 Pro Tenkeyless?

Most of the keys are remappable through Razer Synapse 3. Download and install Razer Synapse 3 to access full customization controls on the Razer DeathStalker V2 Pro Tenkeyless.

Can the Razer DeathStalker V2 Pro Tenkeyless be used as a wired keyboard while charging?

Yes, as long as it is being charged with a compatible USB Type A to Type C cable.