Razer Naga V2 HyperSpeed
ADAPT AND UNLEASH
Rise to the top of your guild with the Razer Naga V2 HyperSpeed—a best-in-slot wireless ergonomic MMO mouse. Optimize skill rotations with an arsenal of 19 buttons and a dual mode scroll wheel. Power through raid progression with potent wireless performance backed by up to 250 hours of battery life on HyperSpeed Wireless.
21 PROGRAMMABLE CONTROLS
Ergonomically Placed Buttons For Optimized Control
Whether you're mapping out the essentials or going all out with advanced macros, this mouse is armed with ergonomically positioned buttons that let you have an arsenal of commands at your fingertips.
1) DPI Stage Up
2) DPI Stage Down
3) Left Mouse Click
4) Right Mouse Click

5) Left Tilt-Click
6) Scroll Click
7) Right Tilt-Click

8) Scroll Up
9) Scroll Down
+12) 12 Button Thumb Grid
RAZER™ HYPERSPEED WIRELESS (2.4 GHZ) AND BLUETOOTH
Ultra Low-Latency Performance or Long Battery Life
Unleash seamless, low-latency performance that's faster than other wireless tech or switch to Bluetooth for longer hours of gaming.
Bluetooth

Razer Hyperspeed Wireless
POWERED BY RAZER™ HYPERSCROLL TECHNOLOGY
Free-Spin or Tactile Scroll Wheel
Perform repeated commands rapidly or blaze through content in free-spin mode. Activate tactile mode for enhanced precision and satisfying feedback—perfect for cycling through weapons or skills.
Tactile Cycling Mode

For high-precision and distinct notched scrolling ideal for cycling through weapons or skills.

Free-Spin Scrolling Mode

For smooth, high-speed scrolling perfect for covering content quickly or emulating repeated game commands.
MORE ADVANCED FEATURES
RAZER™ Focus Pro 30K Optical Sensor

Razer's industry leading SENSOR provides flawless tracking performance on a wider variety of surfaces including glass – supported by intelligent functions for enhanced aim and control.

Learn More >

RAZER™ Mechanical Mouse Switches Gen-2

With gold-plated contact points, the switches are less prone to degrading and have a longer lifespan of up to 60-million clicks, so you can enjoy crisp execution that's just as consistent.

RAZER™ HYPERSPEED
MULTI-DEVICE SUPPORT

Streamline your setup and free up a USB port by connecting your Razer wireless mouse and keyboard to a single dongle.

Learn More >
RAZER™ HYPERSHIFT TECHNOLOGY

Double the number of button inputs at the push of a button. Unlock a second set of functions on top of your existing button assignments via Razer Synapse.

Learn More >

100% PTFE MOUSE FEET

This customizable gaming mouse glides smoothly across any surface with mouse feet made from the purest, highest grade of PTFE.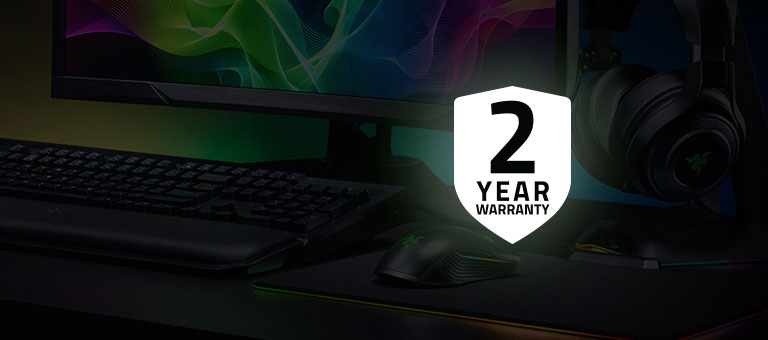 We've Got You Covered
Get up to 2 years of warranty and access reliable tech support. Purchase directly from RazerStore and get 14 days risk-free returns.
FAQ
What is the form factor of the Razer Naga V2 HyperSpeed?

The Razer Naga V2 HyperSpeed has a right-handed ergonomic design.

Where can I find the USB wireless dongle for the Razer Naga V2 HyperSpeed?

The USB wireless dongle is stored in a compartment underneath the top cover of the mouse. Simply remove the cover to store or remove your USB dongle.

How do I remap buttons and customize settings for the Razer Naga V2 HyperSpeed?

In order to configure button mappings and macros, you'll have to first download and install Razer Synapse 3.

Are replacement parts available for this product?

Yes. For more info, please visit our Replacement Parts Page.

Does the Razer Naga V2 HyperSpeed have Razer™ Chroma RGB lighting?

No. This is to ensure maximum battery life for the Razer Naga V2 HyperSpeed.