RAZER BASILISK V3 PRO
OUR MOST ADVANCED GAMING MOUSE YET
The king returns to raise the game. Enter the Razer Basilisk V3 Pro—our most advanced gaming mouse yet. Armed to the teeth with industry-leading technology, unlock your maximum potential with a weapon that pushes the known limits of performance, customization, connectivity, and control.
INSANE ATTRIBUTES, POTENT PEFORMANCE
| | STATS | WHAT IT REPRESENTS | |
| --- | --- | --- | --- |
| STR | 100 | Razer Optical Mouse Switches Gen-3 | Learn More > |
| AGI | 100 | Razer HyperSpeed Wireless | Learn More > |
| INT | 100 | Razer HyperScroll Tilt Wheel | - |
| VIT | 100(110) | Next-Gen Wireless Charging | Learn More > |
| DEX | 120 | Razer Focus Pro 30K Sensor | Learn More > |
| CHR | 100 | Razer Chroma RGB | Learn More > |
Razer™ HyperScroll Tilt Wheel
Smooth, Free-Spin Scrolling or Tactile Cycling
Speed through content with a scroll wheel that free-spins until its stopped, or switch to tactile mode for more precision and satisfying feedback that's ideal for cycling through weapons or skills.
TACTILE CYCLING MODE

For high-precision and distinct notched scrolling ideal for cycling through weapons or skills.

SMART-REEL MODE

Enabled via Razer Synapse, the scroll wheel automatically shifts from tactile to free-spin mode when you scroll faster.

FREE-SPIN SCROLLING MODE

For smooth, high-speed scrolling perfect for covering content quickly or emulating repeated game commands.

VIRTUAL ACCELERATION

By turning on this Razer Synapse feature, you'll be able to increase the mouse's scroll speed the faster you scroll, allowing you to navigate through lengthy documents and articles at an even quicker rate.
13-Zone Chroma Lighting with Full Underglow
Powered by Razer Chroma™ RGB
Customize each zone from over 16.8 million colors and countless lighting effects, and experience greater immersion as they react dynamically with hundreds of Chroma-integrated games.
13 INDIVIDUALLY PROGRAMMABLE LEDS

OVER 200 CHROMA-INTEGRATED GAMES

16.8 MILLION COLORS
Razer™ HyperSpeed Wireless
with Multi-device Support
High-Performance, Low-Latency Gaming
Enjoy ultra-responsive gaming with speeds 25% faster than other wireless tech. Streamline your setup and free up a USB port by connecting your wireless mouse and keyboard to a single dongle—a feature that can be activated in our latest Razer HyperSpeed peripherals.
More Advanced Features
Iconic Ergonomic Form with 10+1 Programmable Buttons

Cutting-Edge Ergonomics and ControlFavored by millions worldwide, the mouse's signature shape perfectly supports different grips, while its numerous easy-access buttons allow for an endless combination of commands and macros.

RAZER™ FOCUS PRO 30K OPTICAL SENSOR

Best-In-Class PrecisionRazer's industry leading sensor provides flawless tracking performance on a wider variety of surfaces including glass—supported by intelligent functions for enhanced aim and control.

RAZER™ OPTICAL MOUSE SWITCHES GEN-3

Unrivalled Durability and SpeedFrom an improved 90-million click lifecycle with zero double-clicking issues, to a blistering 0.2ms actuation with no debounce delay, enjoy reliability and speed that outshines all others.
UPGRADE TO NEXT-GEN WIRELESS CHARGING
Compatible with Razer Wireless Chargers and Other Qi Chargers
Unlock the Razer Basilisk V3 Pro's true capability for seamless convenient charging by pairing it with the following (both sold separately):

Learn More > Buy Now >
RAZER MOUSE DOCK PRO

Includes Razer Wireless Charging Puck

RAZER WIRELESS CHARGING PUCK

Qi-certified design compatible with other Qi chargers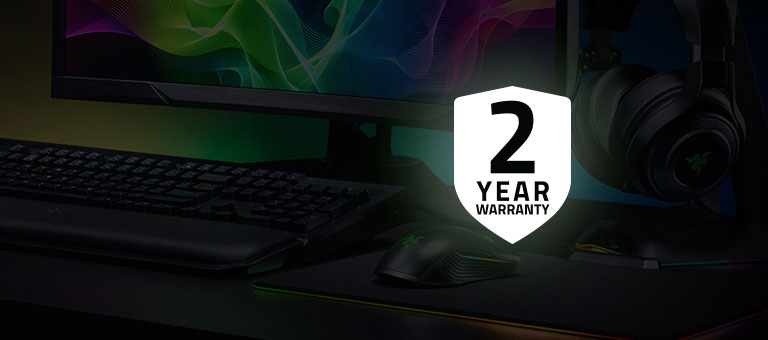 We've Got You Covered
Get up to 2 years of warranty and access reliable tech support. Purchase directly from RazerStore and get 14 days risk-free returns.
FAQS
What is the form factor of the Razer Basilisk V3 Pro?

The Razer Basilisk V3 Pro features a unique right-handed ergonomic design with a signature thumb rest for less finger drag and smoother flicks when gaming.

How do I remap buttons and customize settings for the Razer Basilisk V3 Pro?

Does the Razer Basilisk V3 Pro have a tilt scroll?

Yes. In addition, its tilt scroll wheel can also be programmed for custom functions—just like every other button on the mouse.

You can pair the following keyboards to the Razer Basilisk V3 Pro's dongle:

Razer DeathStalker V2 Pro
Razer DeathStalker V2 Pro Tenkeyless
Razer BlackWidow V3 Pro
Razer BlackWidow V3 Mini HyperSpeed
Razer BlackWidow V3 Mini HyperSpeed Phantom Edition

What does the cover puck at the bottom of the Razer Basilisk V3 Pro do?

It covers a compartment that stores the mouse's wireless dongle when not in use.

How does the Razer Basilisk V3 Pro work with wireless charging?

With the additional purchase of the Razer Wireless Charging Puck or Razer Mouse Dock Pro (puck included), you can replace the mouse's cover puck to enable wireless charging. Once the wireless puck has been installed, simply place it on the Razer Mouse Dock Pro or any other Qi-charging device. Learn more about the Razer Mouse Dock Pro and Wireless Charging Puck.

Is the multi-function trigger button on the left-side of the Razer Basilisk V3 Pro removeable?

While it is not removeable, the button has been optimally positioned for easy access without accidental misclicks when gaming.