Pro-Grade Streaming Gear
CREATED FOR CREATORS
To push the quality of your content, you need to be able to create without limits. From microphones and cameras, to capture cards and headsets, we've got the streaming gear you need to do just that.
CREATE YOUR SOUND
Whether you're after crisp, true-to-life vocals or a radio DJ-like tone that oozes richness and warmth, we've got both options covered.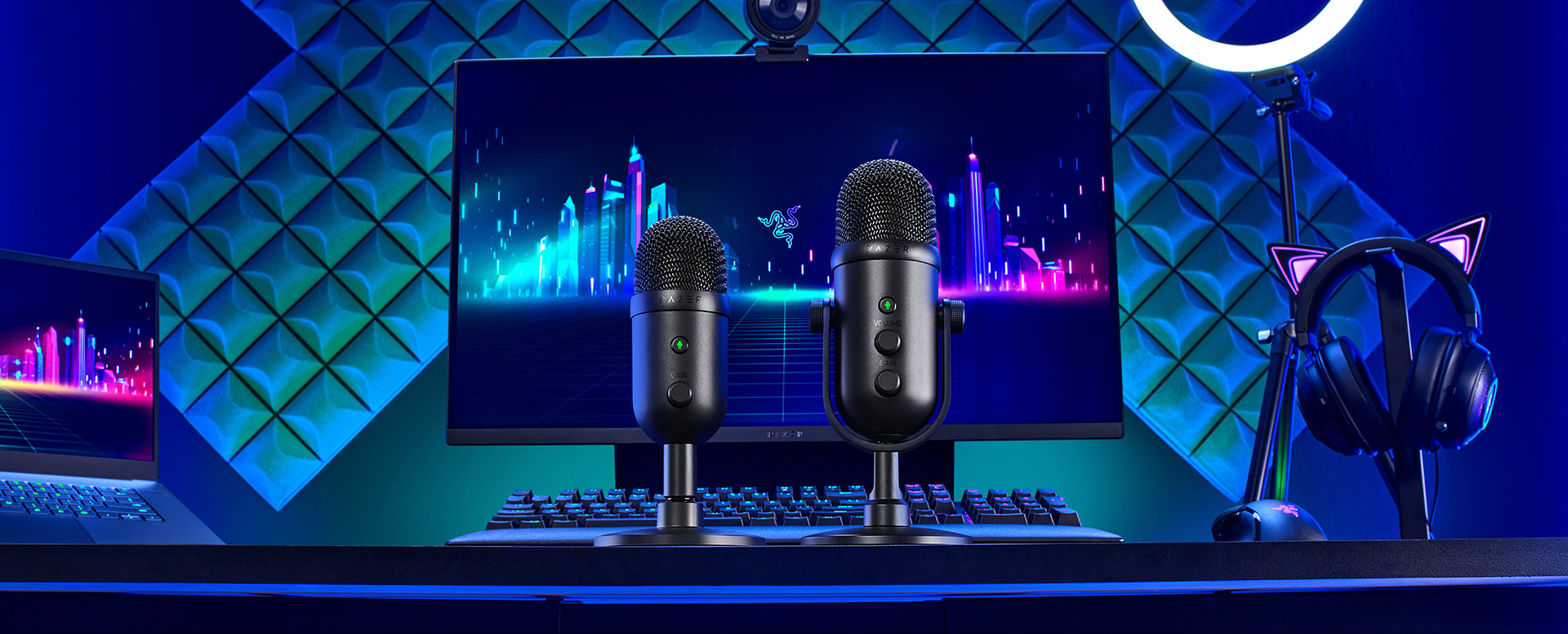 RAZER SEIREN V2 PRO

RICH, GOLDEN VOCALS

Your browser does not support the audio element.A dynamic mic with incredible low end to give your voice a deep, warm quality that sounds full and clear thanks to its superior noise suppression.

Learn More >

RAZER SEIREN V2 X

CLARITY COMES NATURALLY

Your browser does not support the audio element.A 25mm condenser mic with impressive sensitivity to capture your voice with a high degree of accuracy especially at higher frequencies, ensuring that you sound to others just like the true you.

Learn More >

RAZER SEIREN MINI

CLARITY MADE COMPACT

Your browser does not support the audio element.
Big sounds can come in small packages. Meet the Razer Seiren Mini—an ultra-compact 14mm condenser mic that's the perfect fit for professional grade-audio with any streaming or video call setup.

Learn More >
Razer Seiren BT
Bluetooth Microphone for Mobile Streaming
CREATE WITH COMPLETE CONTROL
With the power to manage your stream and audio right at your fingertips, our all-in-one controllers are designed to streamline production so that you can focus on creating your most engaging content.
Razer Stream Controller

INSTANT CONTROL. INFINITE CREATIVITY

Whether you're a streamer or content creator, let your creativity flow with the Razer Stream Controller. Instantly access any function through its customizable touchscreen, buttons, and dials. Create shortcuts and multi-task with ease so you can focus on engaging the fans and growing your following.

Learn More >

Razer Audio Mixer

COMBINED AUDIO CONTROL

Streamline your setup and optimize your production with the Razer Audio Mixer—an easy-to-use, all-in-one analog mixer for broadcasting and streaming. With total control over your mix and studio-like quality, professional audio has never sounded this good or felt this simple.

Learn More >
TOTAL AUDIO CONTROL
AUDIO MIXING VIA RAZER SYNAPSE.
*Available in Razer Audio Mixer, Razer Seiren V2 Pro and Razer Seiren V2 X
With the ability to adjust the volume mix of what you hear and what the audience hears separately, you can focus on delivering your best content without any distractions. Simply assign your audio to their respective outputs and control the levels at which they all play at within one, powerful platform.
CREATE YOUR IMAGE
RAZER KIYO PRO
Resolution isn't everything—not when you've seen what a sensor with a larger pixel size and excellent low light performance can do. The Razer Kiyo Pro is superior to 4K webcams in these 2 key areas, which means it can provide superior visual fidelity regardless of what lighting setup or condition you have.
SEE THE DIFFERENCE
RAZER KIYO

MOUNT UP, LIGHT UP, WHAT'S UP

With the Razer Kiyo, your fans or friends are always just one click away. With studio-like lighting and full HD capability, it's great for streaming and video calls, so you can stay connected with the people in your life.

Learn More >

RAZER KIYO X

STREAM TO YOUR FULLEST

Take your streaming to the fullest with the Razer Kiyo X—a USB webcam for Full HD streaming at 1080p 30FPS. With great visual fidelity, fully customizable settings, smart auto-focusing, and more, we're all about helping you gear up to create your best content.

Learn More >
RAZER BLUE SCREEN
Collapsible Chroma Key Backdrop for Streaming
CREATE YOUR SPACE
From game reviews to makeup tutorials, movie reactions to mukbangs, secure a full setup that'll help you make your mark as a premier content creator.
FOR CREATORS AT ALL LEVELS
No matter where you're at in your content creator journey, we've got the gear that meets your needs
BE ONE WITH THE #RAZERSTREAMER COMMUNITY!
Whether you're a seasoned streamer or just starting out in the scene—if you possess the grit and passion to inform and entertain, we've got you covered with the support you need to unleash your true potential.

Discover the #RazerStreamer program and embark on the next step in your streaming journey here.
This is a carousel with panning animation. Use the Play and Pause button to start and stop the animation.
FIND THE CREATOR IN YOU
Want to get into streaming but don't know where to start? We've created a page dedicated to help you kickstart your passion. No matter what type of content you plan to create, our guide features everything you need so that anyone can stream.