RAZER OPUS X
NOISE FREE IMMERSION
Elevate your immersion with the Razer Opus X — a sleek wireless Bluetooth headset that's engineered to cancel out the competition. Whether you're all about amping it up with ANC or crushing it on low-latency Gaming Mode, prepare to be plunged into a world of immersive sound with zero distractions.
Active noise cancellation (ANC) technology
Whether you're grooving to your favorite beats, watching a movie, or gaming, eliminate all distractions with Active Noise Cancellation that detects and nullifies unwanted ambient noise.
Bluetooth 5.0
Featuring higher bandwidth, longer range, and lower power consumption, Bluetooth 5.0 offers a reliable wireless connection that is energy efficient for prolonged battery life.
60ms low latency connection
Activate Gaming Mode to fire up the headset's wireless performance while gaming or watching videos on Bluetooth devices for a more seamless experience.
Custom-tuned 40mm drivers

Armed with custom-tuned 40mm drivers, the Opus X provides a rich audio experience that elevates your enjoyment, delivering clear highs and mids, as well as deep, punchy bass.

Built-in microphones

With internal microphones dedicated to voice communication, the Opus X ensures you always hear everyone in your conference calls—and they hear you—with perfect clarity.

Quick Attention Mode

For a heightened sense of awareness, activate Quick Attention Mode to let outside sound in—useful when crossing the road or simply to get a sense of your surroundings.
| | | |
| --- | --- | --- |
| | | |
| Active Noise Cancellation (ANC) | Yes (Feedforward) | Yes (Hybrid) |
| THX Certified | No | Yes |
| Low Latency | Yes (60ms) | No |
| Wearing Style | Over-Ear (Circumaural) | Over-Ear (Circumaural) |
| Driver Size – Diameter | 40mm | 40mm |
| Auto Pause/Play | No | Yes |
| Quick Attention Mode | Yes | Yes |
| Connection | Bluetooth Only | Bluetooth & 3.5mm |
| | | View the Razer Opus |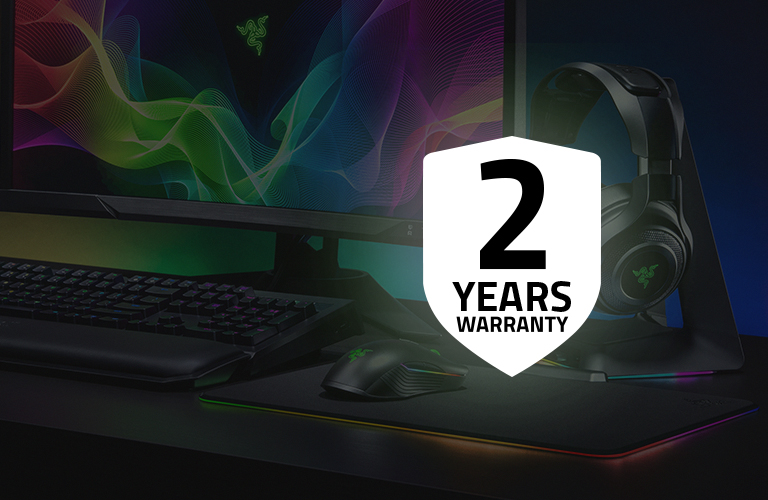 We've Got You Covered
Get up to 2 years of warranty and access reliable tech support. Purchase directly from RazerStore and get 14 days risk-free returns.
FAQs
How do I connect my Razer Opus X headphones to my device?

The Opus X headphones connect wirelessly using Bluetooth. To pair via Bluetooth, start with the headphones powered off. Ensure there's power and press and hold the Power Button for about 5 seconds until the indicator light next to the Power Button blinks blue. Razer Opus X is now in Bluetooth pairing mode (you will also hear an audible cue "Pairing" to indicate that the Razer Opus X is now in Bluetooth pairing mode).

Navigate to your device's Bluetooth settings to turn on Bluetooth, then scan for and connect to "Razer Opus X". You will hear a distinct audible cue from the headphones to confirm that they are connected to your device.

How long does the battery last on the Razer Opus X?

Fully charged, the Opus X can last up to 30 hours with ANC on (up to 40 hours with ANC off).

How do I activate low latency Gaming Mode?

Press and hold the multi-function button for 5 seconds. You will hear audible cue "Gaming Mode" to confirm that it has been activated. Doing the same gesture again will return to Normal Mode. You will hear audible cue "Normal Mode" to confirm. If audio drops/skips, we recommend keeping your headset within a very close distance of the audio source when in Gaming Mode (within 2 ft / 60 cm) and switching back to Normal Mode when not gaming.

How do I turn active noise cancellation (ANC) and Quick Attention Mode (Ambient) on/off?

Simply press the Power Button to cycle between ANC On/Quick Attention Mode/ANC Off. There will be audible cues that signal which setting you are on. You can also tell by the level of noise isolation you experience to determine whether ANC is on or off.

Is the Razer Opus X compatible with Bluetooth audio from the Nintendo Switch™?

Yes! First, confirm that you have the latest software installed on both devices. The Razer Opus X may be updated via the Razer Audio App. Next, simply follow the Nintendo Switch™ Bluetooth audio pairing instructions to connect your headset.