RAZER GAMING CONTROLLERS ARE TOUGH FOR A REASON
AT RAZER, OUR GAMING CONTROLLERS ARE MADE TO LAST ROUNDS OF SERIOUS GAMEPLAY.
To ensure consistent quality, we put our controllers through rigorous pre-production and packaging tests. This makes them tough enough to withstand everyday abuse, while giving you the ultimate competitive advantage.

Here are some of the demanding test setups for the Razer Wolverine Ultimate.
TEMPERATURE TESTS
We conduct stress testing at extreme temperatures to find out how our controllers react under different situations
Temperature:
From -20°C (-4 °F)
to 65°C (149°F).
Thermal Shock Test:
Temperature changes from
-30°C (-22°F) to 65°C (149°F).
Longevity Test:
Extended periods of time
at 45°C (113°F).
MECHANICAL TESTS
We condense years of usage into 7 months of testing—pressing, bending and stretching our controllers to their limits.

TESTS INCLUDE:
Drop Tests
Vibration Tests
Analog Stick Actuation
Analog Joystick Rotation
Analog Stick Impact
Button & Trigger Tests
Thumbstick & D-Pad Removal And Attachment
Cable Bending
Cable Strain
Cable Twisting Tests
Cable Disconnection
Rumble Motor Life Tests
COSMETIC TESTS
We expose our controllers to friction and wear to test the durability of materials and coating.
Abrasion Test: Withstand different items being rubbed over body, logo and buttons.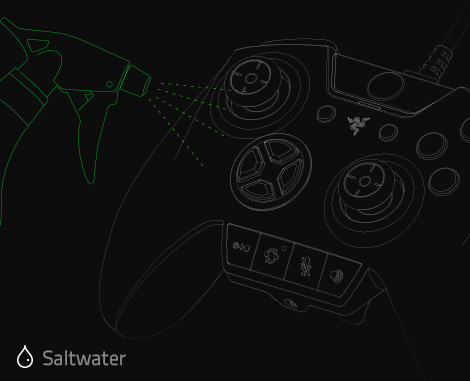 Sweat & Salt Mist Spray: Spraying of saltwater solution.
GET THE BEST HARDWARE FOR THE
PS4 AND XBOX ONE
Discover our line of award-winning hardware designed for consoles.