For a limited time, all orders over € 59 will enjoy free standard shipping to Europe.
Shop Now
CORE GAMING COMFORT
If solid gaming performance stems from solid support, then make comfort your edge with the Razer Iskur X. It's time to discover what essential support and comfort can bring to your game, with an ergonomic gaming chair designed for hardcore play.
ERGONOMICALLY DESIGNED FOR HARDCORE GAMING
From its unique contours and angled seat edges, to its fully adjustable recline, tilt, and height, the Razer Iskur X supports a healthy sitting posture so you can game or work for hours in comfort, on your ergonomic chair.
MULTI-LAYERED SYNTHETIC LEATHER
This ergonomic gaming chair is wrapped in a material that not only feels comfy, but is tougher and more durable than standard PU leather, making it better suited to withstand the peeling that comes from long hours of daily use.
HIGH DENSITY FOAM CUSHIONS
For the perfect balance of support and comfort, the Razer Iskur X has plush, dense cushions which provide better contouring, allowing your weight to apply just enough pressure as they mold to support your unique body shape.
ENGINEERED TO CARRY
With a steel-reinforced body, armrests and wheelbase, this ergonomic gaming chair can support a weight of up to 299 lbs/136 kg, and is ideal for gamers with a height of 5'6"–6'2"/170–190 cm. It also features angled seat edges to maximize resting surface area.
Recommended Size
MEASUREMENTS
a Wheel Base Diameter b Seat Width (including sides) c Seat Pan Width (front)
if front width is different with the back seat width d Seat Pan Width (back) e Backrest Width (lumbar) f Armrest-to-Armrest Distance (Inter-Armrest Distance) g Backrest Width h Armrest Side-way Adjustment i Floor-to-Seat Height j Seat-to-Armrest Height k Backrest Height l Armrest Height Adjustment Stroke m Seat Depth n Seat Depth (Overall Depth)
2D ARMRESTS
The Razer Iskur X's armrests can be adjusted by height and rotated inwards or outwards, so your arms will always be in a natural, relaxed position when gaming.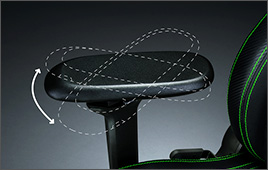 Also Available Razer Iskur
Achieve perfect gaming form for your marathon gaming sessions with the Razer Iskur—a gaming chair with a built-in ergonomic lumbar support system.
We've Got You Covered
Get up to 3 years of warranty and access reliable tech support. Purchase directly from RazerStore and get 14 days risk-free returns.