For a limited time, all orders will enjoy free shipping to Europe.
Shop Now
RAZER OROCHI V2
Eight-headed serpent
Of myth, greater than mountains
Whose tail hides the blade
OUTLAST AND OUTPLAY.
Introducing the Razer Orochi V2—a compact, ultra-lightweight wireless gaming mouse with the longest battery life that's second to none. Armed with both Razer HyperSpeed Wireless & Bluetooth modes, it's your perfect companion for gaming on the go.
MAKE IT YOUR OWN.
WITH RAZER CUSTOMS.
This is a carousel with panning animation. Use the Play and Pause button to start and stop the animation.
Customize your Razer Orochi V2 to display your passion and personality. Choose from a huge, ever-growing selection of officially licensed designs, or flex your creativity by creating a unique one from the ground up.

LEARN MORE
MAKE LIGHT WORK OF YOUR FOES.
< 60G ULTRA-LIGHTWEIGHT FORM FACTOR*
Enjoy faster swipes and deft control with one of the lightest gaming mice in the market.
*excludes battery weight
TAKE THE WIN INTO YOUR OWN HANDS.
UNIVERSAL DESIGN.
Claw, palm and fingertip grip styles.
The Razer Orochi V2's form has been improved upon—purposefully redesigned for a more natural fit that ensures better handling with most grip styles.
LOWERED LEFT & RIGHT MOUSE BUTTONS

For stronger index and middle finger grip

RAISED BACK ARCH WITH TAPERED ENDS

For closer palm contact

THUMB-GROOVE CONTOUR

For stronger thumb grip

OPTIMIZED SIDE BUTTON PLACEMENTS

For easier access
BRING YOUR A-GAME ANYWHERE. ANYTIME.
PORTABLE PERFORMANCE.
The Razer Orochi V2's compact size fits easily into your backpack, ready to be called upon no matter where or when.
PERFORMANCE THAT GOES ON AND ON.
2 WIRELESS MODES.
Built for the gaming and work grind, this ultra-lightweight wireless gaming mouse can go for ages before its batteries need replacing.
BLUETOOTH

UP TO 950 HOURS*

For max battery life to power through work

RAZER HYPERSPEED WIRELESS

UP TO 425 HOURS*

For seamless, low-latency gaming
*measured with a AA lithium battery
Interact the radio buttons and sliders below to change the value of "Battery Life (Days)"
See how long it can last based on your own usage habits:
WORKS WITH AA OR AAA BATTERIES.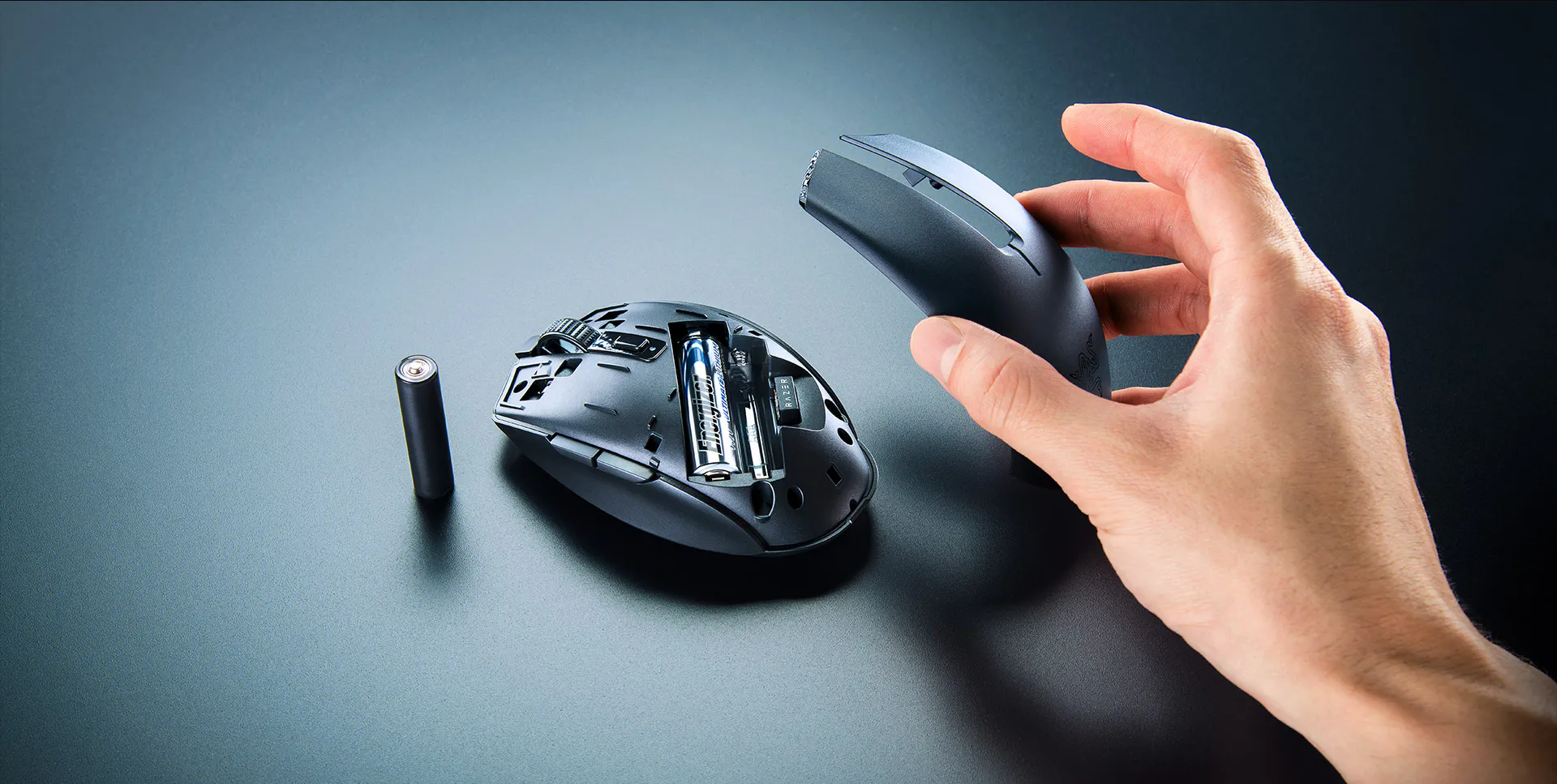 Requiring only one AA or AAA* battery to work, the Razer Orochi V2 features a hybrid battery slot that's been optimally positioned for balanced weight distribution.
*AAA battery not included
A FIRST-CLASS TRAVEL COMPANION.
DOWN TO EVERY LAST DETAIL.

RAZER™ 5G ADVANCED
OPTICAL SENSOR
Enjoy responsive, pixel-precise aim with an improved sensor that flawlessly tracks your movement with zero spinouts.
2ND-GEN RAZER™ MECHANICAL
MOUSE SWITCHES
With new gold-plated contact points, the switches are more resistant to degrading and have a longer lifespan of up to 60 million clicks.
100% PTFE
MOUSE FEET
This portable wireless gaming mouse glides smoothly across any surface with mouse feet made from the purest, highest grade of PTFE.
ON-BOARD
MEMORY PROFILE
Be ready to compete anywhere with access to your custom keybinds, DPI, and twice the inputs via the Razer HyperShift function.
6 PROGRAMMABLE BUTTONS
The Razer Orochi V2 is fully configurable via Razer Synapse 3, letting you execute macros and secondary functions for an advanced degree of control.
BEST PAIRED WITH THE RAZER BLADES
While the Razer Orochi V2 works great with most popular laptops, they're the perfect add-on to any of our Razer Blades—high-performance laptops made to max out your work and play.

LEARN MORE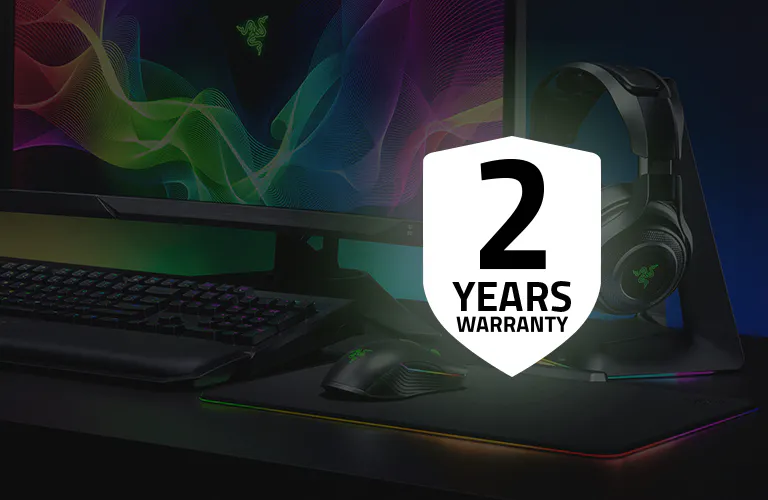 We've Got You Covered
Get up to 2 years of warranty and access reliable tech support. Purchase directly from RazerStore and get 14 days risk-free returns.
FAQs
Will I be able to fit both AA and AAA batteries within the Orochi V2 to extend battery life?

The Razer Orochi V2 is designed to work with only 1 battery at a time. Do not attempt to fit 2 batteries into the Razer Orochi V2 as it can compromise the structural integrity of the mouse.

Where can I find the USB Wireless dongle for the Razer Orochi V2?

The USB wireless dongle is stored in a compartment underneath the top cover of the mouse. Simply remove the cover to store or remove your USB dongle.

Why is the top button blinking red on the Razer Orochi V2? (Low Power Indicator)

The Razer Orochi V2's status indicator will blink red twice in repeated intervals to indicate that the battery level is less than 5%. This lighting sequence will repeat until the battery is fully drained. Once you receive this notification, it is time to replace the battery.

Does the Razer Orochi V2 have Razer™ Chroma RGB lighting?

No, to maximize the battery life of the Razer Orochi V2, it does not have the Chroma lighting feature.

How do I remap buttons and customize settings for the Razer Orochi V2?

In order to configure button mappings, macros and more, you'll have to first download and install Razer Synapse 3. The Razer Orochi V2 also has a single onboard memory profile to save your preferred settings for quick access anywhere without software.

Are replacement parts available for this product?