For a limited time, all orders will enjoy free shipping to Singapore.
Shop Now
DOUBLESHOT DURABILITY
It's time to get tough and secure your keys to victory with the Razer PBT Keycap Upgrade Set. Designed to endure the most intense gaming, these doubleshot PBT keycaps aren't here to win one battle—they're here to win the war.
SUPERIOR PBT MATERIAL
Harder and more durable than ABS or PVC, PBT is a high-grade thermoplastic that gives the keycaps a sturdy, textured look and feel that won't wear down to a shiny finish. Crafted with extra-thick walls, they are well equipped to handle extreme use and produce more satisfying keystrokes because of their solid build.

Available in 4 different colors.
DOUBLESHOT MOLDING WITH ULTRA-THIN FONT
Using our unique doubleshot precision molding process, the keycap labels are fade-resistant and have the thinnest font ever produced on PBT keycaps.

They are also designed to be backlight compatible, and work best with our keyboards' Razer Chroma RGB lighting.
WORKS WITH POPULAR KEYBOARD LAYOUTS
The Razer PBT Keycap Upgrade Set works with Razer and standard 104/105 key US or UK layouts, and comes with 120 doubleshot PBT keycaps and additional stabilizers for optical and mechanical keyboards.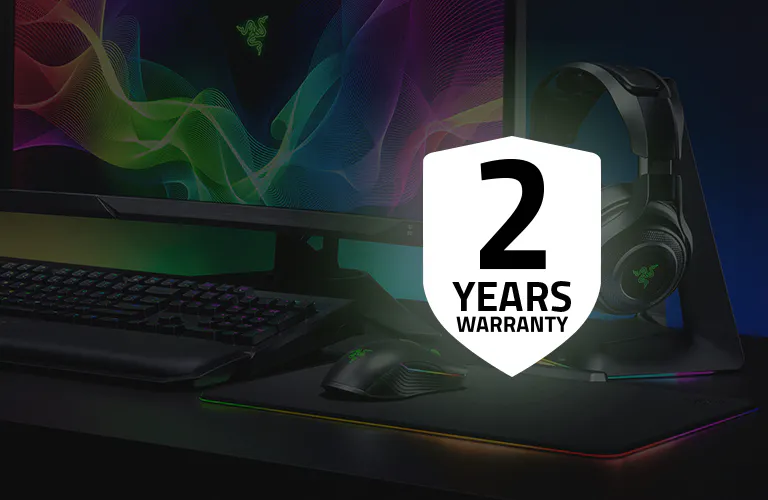 We've Got You Covered
Get up to 2 years of warranty and access reliable tech support. Purchase directly from RazerStore and get 14 days risk-free returns.
FAQ
Will these keycaps fit the switches on my keyboard?

These keycaps will fit all Razer mechanical and optical keyboards and should also fit any Cherry-style switches from other brands.

What keycap layout is provided?

There are 120 keycaps included in the package and they cover either US (ANSI/104) Layout, or the UK (ISO/105) Layout.

I have a backlit keyboard. Will the lighting be able to shine through the fonts?

Yes. The fonts are translucent and will allow lights from the keyboard to shine through.

Does the package include stabilizers for my keyboard?

Yes. We have included enough stabilizers for a full-sized Razer mechanical and optical keyboard. They may also be compatible with keyboards from other manufacturers.