A DIGITAL CELEBRATION
FOR GAMERS. BY GAMERS.
In a true celebration of everything gaming, #RazerCon2021 is back on October 21 to bring an epic entertainment experience for our global gaming community. Gearing up to be bigger and better than last year, this is the first carbon neutral livestream event where we work to offset all emissions from razer devices, including data transmitted for the duration of the livestream. So catch us for a full-day of gaming goodness packed with exclusive unveils, music performances,and more.
TITLE SPONSOR
Tune in to the
Razer CEO Keynote
Join our CEO, Min-Liang Tan for our keynote event during this RazerCon and be the first to witness our latest line-up of Razer hardware launches and updates.
GAMING CELEBRITY APPEARANCES
Hang out with our special gaming celebrities during their panels, Q&A sessions, and watch them play some of your favorite games at RazerCon 2021!
VIDEO GAMES MUSIC PERFORMANCES
Groove to some of your favorite video game tunes at our After-Party Concert!
Norton Gaming
Title Sponsor Showcase
Anna & Gotham
Gaming Celebrity Appearance
Monster Hunter Rise
Game Showcase
Halo Infinite
Game Showcase
#GoGreenWithRazer
Learn about Our New Green Initiatives
Exclusive Razer Announcements
First Look at New Razer Products
SHOW SCHEDULE
An exciting line-up of events awaits you this #RazerCon2021, and there's something for every gamer. Be introduced to the latest and greatest Razer has to offer, get an exclusive look at unreleased games, and hangout with our special guests for some fun and music.
| PT | | UTC | | Programme |
| --- | --- | --- | --- | --- |
| 8:30 | AM | 3:30 | PM | Opening Performance by Video Game Pianist |
| 9:00 | AM | 4:00 | PM | Razer Respawn Showcase |
| 9:30 | AM | 4:30 | PM | Razer Console: Customize. Control. Conquer. |
| 10:00 | AM | 5:00 | PM | RazerCon 2021 CEO Keynote Opening |
| 11:20 | AM | 6:20 | PM | Exclusive Inside Look: Razer Systems |
| 11:45 | PM | 6:45 | PM | RazerCon Partner Showcase - Norton Gaming |
| 12:15 | PM | 7:15 | PM | RazerCon Games Showcase ft. Razer Chroma |
| 12:35 | PM | 7:35 | PM | RazerCon Partner Showcase - Twinkly |
| 1:30 | PM | 8:30 | PM | Cross-Atlantic Chess Showdown ft. Anna & Gotham |
| 2:00 | PM | 9:00 | PM | Worlds 2021 Predictions ft. Sneaky |
| 2:20 | PM | 9:20 | PM | RazerCon Partner Showcase - Seagate Gaming |
| 2:40 | PM | 9:40 | PM | Special Guest Appearance: Viva La Dirt League |
| 2:50 | PM | 9:50 | PM | Exclusive Inside Look: Keyboards, Mice, Headsets |
| 3:10 | PM | 10:10 | PM | RazerCon Partner Showcase - 343 Industries |
| 3:30 | PM | 10:30 | PM | RazerCon Games Showcase ft. Razer Chroma |
| 3:55 | PM | 10:55 | PM | Start your Streaming Journey ft. Seltzer |
| 4:00 | PM | 11:00 | PM | RazerCon Sustainability Showcase |
| 4:35 | PM | 11:35 | PM | #GoGreenWithRazer ft. Paladin Amber |
| 5:00 | PM | 12:00 | AM | RazerCon Partner Showcase - Windows 11 |
| 5:20 | PM | 12:20 | AM | #MadeWithBlade ft. Video Games Live, Miroshot and more |
| 5:40 | PM | 12:40 | AM | Giveaways! Giveaways! Giveaways! |
| 6:00 | PM | 1:00 | AM | RazerCon After Party ft. DJ Soda, Kero Kero Bonito and more |
Video Game Pianist
Music Performance
Twinkly
Presenting Partner Showcase
Cloakzy
Gaming Celebrity Appearance
FemSteph
Gaming Celebrity Appearance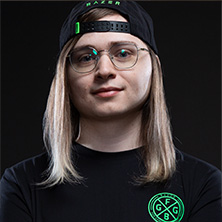 Sneaky
Gaming Celebrity Appearance
Seagate Gaming
Presenting Partner Showcase
343 Industries
Partner Showcase
PaladinAmber
Gaming Celebrity Appearance
#MadeWithBlade
With Tommy Tallarico, BOMBS AWAY, and Miroshot
Windows 11
Presenting Partner Showcase
Kero Kero Bonito
Music Performance
FamilyJules
Music Performance
The8BitDrummer
Music Performance
ToxicxEternity
Music Performance
DJ Soda
Music Performance