For a limited time, all orders will enjoy free shipping to Europe.
Shop Now
Performance Meets Productivity.
"A laptop designed with productivity users in mind. And it's a serious force to be reckoned with... Unlike most ultraportables on the market, Razer isn't skimping on the ports."
-Laptop Mag
"Positioned for regular laptop users, creatives, and anyone who needs an excellent premium Windows Ultrabook, the Book is an outstanding accomplishment."
-Windows Central

"This is one of the best performing Ultrabooks you're going to find."
-Tech Radar
This is a carousel. Use the slide dot buttons to navigate into any slide.
A FORCE OF PRODUCTIVITY IS BORN.

From a heritage of high-performance hardware comes a laptop that's a productivity powerhouse. Its ultra-compact design and 13.4" bezel display is built for uncompromising mobility. Exceptional battery life of up to 10 hours and more keeps you working on your own hours. Plus, with an 11th Gen Intel® Core™ i5 or i7, you can efficiently multitask with responsiveness and focus, jumping between video calls, downloading and sharing files, and browsing multiple windows at once. Ready to get to work?

PRODUCTIVITY GOES BOLD

Meet the award-winning Razer Book—now in Quartz Pink with Windows 11. Designed to express your style and make a statement as you work on the go.
Maximize Your Productivity with Windows 11.
Enjoy a fresh new feel and tools that make it easier to be efficient. With improved Teams integration and intuitive gestures1, as well as enhanced Widgets, Snap layouts, and Virtual Desktops, let Razer Book bring out your best version of productivity.
1 Touchscreen available on i7 models only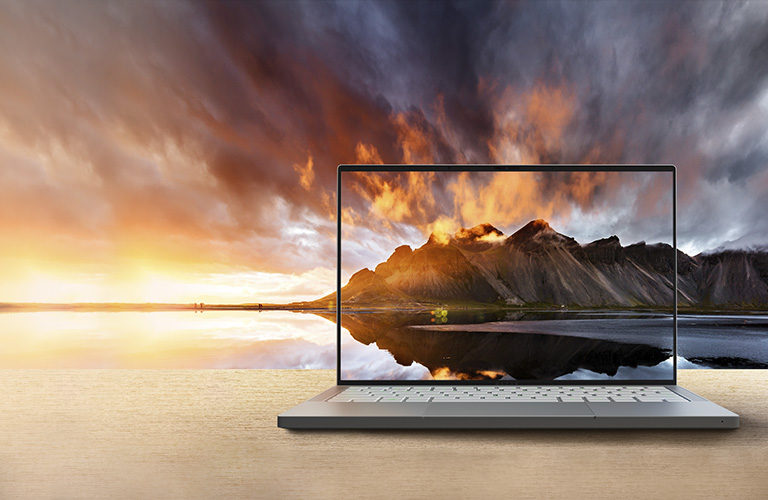 MORE SCREEN ESTATE TO KEEP AN EYE ON ACCOMPLISHING.
13.4" 4-sided thin bezel display
There's no minor detail the eye can't see, fixate upon, and refine to perfection. That's why the Razer Book was specially designed to maximize visual clarity without compromising on weight or portability. Bring productivity into plain view with a 13.4" display with 4-sided thin bezels and a 16:10 aspect ratio to keep you focused on doing. Want to delegate beyond? Touch Screen is available to help you truly augment your control.
13.4"


4-sided thin bezel display

16:10

aspect ratio

Gorilla® Glass 6

Available in FHD Non-Touch, FHD Touch Screen, and UHD Touch Screen
RESPONSIVENESS.
ON STANDBY.
Intel® Evo™ Certification
Whether you need to locate a document, toggle between multiple spreadsheets, or react to several requests all at once, the Razer Book provides responsive assistance that keeps pace with your multifaceted lifestyle and efficient work habits. With the speed and agility of the Intel® Evo® Platform, the Razer Book can wake up at a moment's notice and is tuned, tested, and trusted to deliver anytime, anywhere.

Just how responsive is the Intel® Evo® Platform?
Battery lasts up to 14 hours
Instant wake
(less than 1 second to resume power)
Instant resume
Modern Standby
to stay connected, even when it's asleep
Quick recharge
(30 mins for 4 hours of usage)
Best-in-class connectivity
with Intel® Wi-Fi 6 (Gig+) & Thunderbolt™ 4
THE POWER TO GET MORE DONE.
11th Gen Intel® Core™ Processors
Ready, willing, and able to turn every ounce of work into pure worth—11th Gen Intel® Core™ i5 and i7 mobile processors are best-in-class, bringing maximum performance to the Razer Book. Just because it's a lightweight laptop, doesn't mean it can't pack a punch of productivity. Expect immersive graphics for deeper engagement, the processing power to revolutionize creative workflows at faster speeds, and intuitive AI to empower more authentic collaboration no matter where you conference in. Consider your tasks mastered.
SLIM. SLEEK. READY TO PICK UP AND GO.
Bounce between meeting rooms, coworking spaces, cafes, and classrooms without worry. The Razer Book's ultra-lightweight profile and exceptional craftsmanship make it the perfect portable companion built with your productivity in mind.
Thin, compact, portable form factor

Unibody design

Made from CNC Anodized Aluminum

As light as 2.9 Lbs (1.34 Kg)
POWER YOUR
BIG PICTURE.
Intel® Iris® Xe Graphics
Stay fully immersed and put your visions on display with Intel® Iris Xe Graphics—well-suited for the sleek profile of the Razer Book to power pixel-perfect productivity. Witness brilliant visuals that support billions of colors in crisp, HD quality as if having a dedicated graphics card. As a result, the renderings you create, presentations you build, and videos you show will not only catch the eye, they'll captivate it.
PERFORMANCE MEETS PRODUCTIVITY.
Vapor Chamber Cooling
Taking a piece from Razer's heritage of performance, the Razer Book is equipped with a Vapor Chamber cooling system, which allows the onboard processor to ramp up while always staying cool and stable.
UNIVERSAL CONNECTIVITY AT LIGHTNING FAST SPEEDS.
It's not about stressing compatibility anymore. It's about plugging into productivity. With the Razer Book's Thunderbolt™ 4 technology, connectivity is finally faster and more universal than ever before. And, with a full-size HDMI 2.0 port, you can say goodbye to carrying a dongle. Instead of adapting to components, be prepared to react to life.
1. Thunderbolt™ 4 Ports
2. USB Type A
3. HDMI Port
4. MicroSD Slot
5. 3.5 MM Headphone/Microphone Combo Port
Thunderbolt™ 4

HD Webcam

4 Microphones

Wireless AX Wi-FI 6

MicroSD Slot
PRECISE SOUND THAT'S MUSIC TO YOUR EARS.
Hear music as if it were in a studio. Immerse yourself in movies as if you were in the scene. THX® Spatial Audio brings advanced 7.1 surround sound to your Razer Book with a high degree of precision that can turn any song, soundtrack, or scene into something truly phenomenal. Talk about a dream for your eardrums.
THE KEYS TO YOUR STYLE.
Per-Key RGB Backlit Keyboard
Expression is a part of who you are. That's why the Razer Book's keyboard is powered by Razer Chroma™ RGB and is designed with individually lit keys, so you can personalize them and showcase your style. Ready to color your day?
Windows Hello.
Password goodbye.
Using facial recognition or a PIN, Windows Hello is a fast, secure, and password-less way to unlock your Windows devices.1
1 Requires specialized hardware, including fingerprint reader, illuminated IR sensor or other biometric sensors and capable devices.
Produce Like a Pro
For a limited time get a one-year license of FL Studio Producer Edition with the purchase of any Razer laptop
*Terms & Conditions apply
ACCESSORIZE AND OPTIMIZE.
Razer Core X
FROM LAPTOP TO POWERFUL DESKTOP.

Want desktop-class power to boost your productivity? Connect Razer Core X through Thunderbolt so render times don't get in the way of your flow.

LEARN MORE

Razer Laptop Stand
INCLINED TO DELIVER.

Elevate your efficiency with a Razer Laptop Stand that's ergonomically designed with an 18-degree inclination. And with aluminum construction, it's lightweight and durable.

LEARN MORE

Razer Anzu Smart Glasses
VISIONARY SOUND

Open-ear audio glasses that protect your eyes and immerse your ears. Available in two types of frames and two sizes.

LEARN MORE
FAQs
Does my Razer Book need to be updated?

Yes, we highly recommend updating your Razer Book to its latest version to ensure it runs at optimal performance. You can download the latest BIOS driver here

Can the SSD / RAM be upgraded in the Razer Book?

The Razer Book's SSD can be upgraded as it has an M.2 slot that is compatible with any single-sided SSD. However, the Razer Book's RAM is fixed and not upgradeable.

Is Cortana and Alexa compatible with Razer Book?

Yes, both Cortana and Alexa are compatible with Razer Book. You can download Alexa from Microsoft Store.

Can Razer Book performance or keyboard lightning be adjusted?

Yes, these settings can be adjusted via Razer Synapse 3.
Thunderbolt and the Thunderbolt logo are trademarks of Intel Corporation in the U.S. and/or other countries. Intel, the Intel logo, the Intel Inside logo and Intel Core are trademarks of Intel Corporation in the U.S. and/or other countries.
Copyright © 2020 Razer Inc. All rights reserved. Razer, For Gamers By Gamers, and the triple-headed snake logo are trademarks or registered trademarks of Razer Inc. and/or affiliated companies in the United States or other countries. All other trademarks are the property of their respective owners. Actual product may differ from pictures. Information correct at time of printing.