All orders over S$79 will enjoy free standard shipping to Singapore.

Power to the Pros
This is a carousel with auto-rotating slides. Jump to a slide with the slide dots button. Use the play/pause button to stop or run the rotation.
"Overall, Blade 17 is a significant milestone. It combines nearly all the best there is right now in the laptop space into one portable machine."
Windows Central
"The Blade 17 could conceivably be your primary gaming and productivity machine for years to come…"
Tom's Guide
"If you want a premium 17-inch gaming laptop, the Blade 17 is a standout"
Tom's Hardware
Already know what you're looking for?
Power to the Pros
The new Razer Blade 17 is more powerful than ever, while still compact in design and improved thermals the Blade 17 empowers Pros with the latest NVIDIA and Intel processors. Able to withstand performance-demanding AAA games on the go, live-stream video while playing, or create masterpieces the Blade 17 is a powerhouse mobile desktop.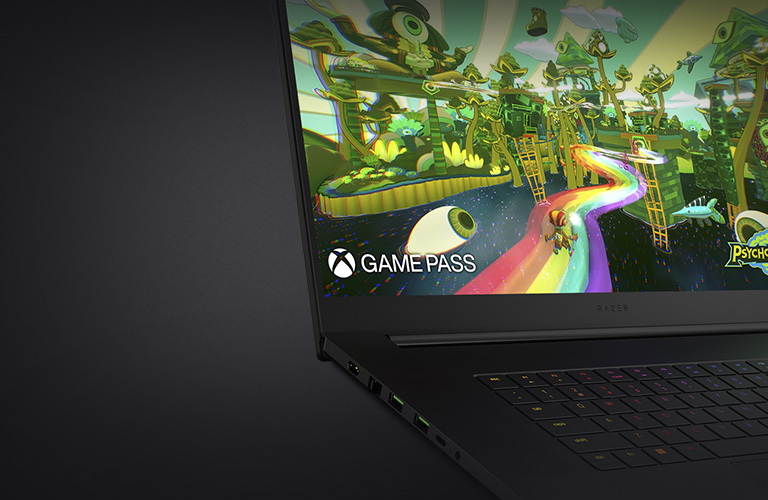 THE LAPTOP FOR DESKTOP-QUALITY GAMING
We're pushing the limits to what a gaming laptop can do. The Razer Blade 17 is built with a powerful processor to run performance-demanding AAA games on the go. We've made it nearly 25% smaller than its predecessor, with a faster 17.3" Display that's fitted into a body as sleek and compact as a 15" laptop.
Work Hard.
Play Hardcore.
Crafted with up to a 12th Gen Intel® Core™ i9-12900H, the Razer Blade 17's 14-core processor helps it surpass everything in its class and delivers outstanding performance. With a 1.8 GHz base clock that boosts up to 5.0 GHz when more power is needed, it's the laptop of choice for replacing your desktop and taking on the heaviest AAA titles and creation tasks.
NVIDIA® GeForce​ RTX™ 30 Series Graphics
The Ultimate Play

NVIDIA® GeForce RTX™ 30 Series Laptop GPUs power the world's fastest laptops for gamers and creators. They're built with Ampere—NVIDIA's 2nd gen RTX architecture—to give you the most realistic ray-traced graphics and cutting-edge AI features like NVIDIA DLSS. Plus, Max-Q Technologies unleash the power of AI to make thin, high-performance laptops that are faster and better than ever.
Boost Performance with AI
NVIDIA DLSS gives games a speed boost with uncompromised image quality. Crank up the settings and resolution for an even better visual experience.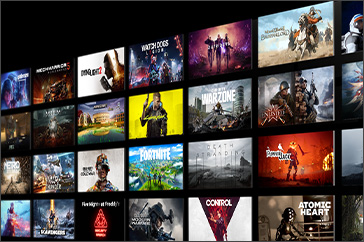 More Immersive Experiences
Ray Tracing is the holy grail of graphics. It simulates how light behaves in the real-world to produce the most realistic and immersive graphics for gamers and creators - and runs fast thanks to 2nd gen RT Cores.
Optimized Power and Performance
NVIDIA Max-Q is a suite of technologies powered by AI that optimize laptops to deliver high performance in thin form factors.
Next-Gen DDR5 (4800MHz) Memory
ENHANCED RESPONSE TIMES

Feel the boost with an increase of 1600MHz compared to DDR4, as you enjoy a quicker, smoother experience when loading applications, running games, and performing other everyday PC tasks.
Ultra-Efficient Vapor Chamber Cooling
OPTIMAL THERMAL PERFORMANCE

All the new-found power the Razer Blade 17 can produce would be meaningless without a thermal performance to match.

Upgraded with more fins, fans, and a larger liquid capacity, the system maximizes its nanoparticle thermal blockers and server-grade components to maximize thermal threshold and squeeze every ounce of FPS out of the laptop.

This system not only allows the laptop to perform at max levels, but also ensures that Razer Blade laptops are able to maintain an incredibly thin form-factor that can't be found anywhere else.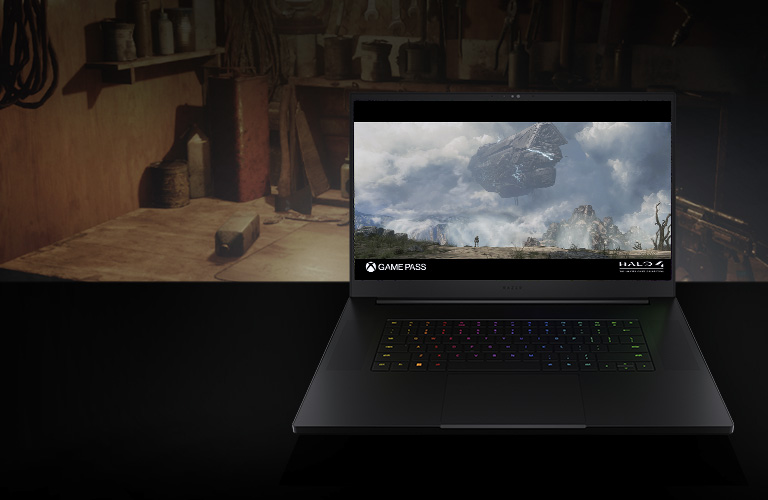 MAXIMIZE YOUR DISPLAY
Get the ultimate gaming and viewing experience with a huge 17.3" screen that barely has any bezels and is factory-calibrated for color accuracy and quality. With options for a Full HD, QHD, or UHD display, enjoy silky-smooth refresh rates no matter what choice you make.
FHD | QHD | UHD

6.0mm-thin Bezel
FAST JUST GOT EVEN FASTER
Go all-out for competitive gaming with an ultra-smooth 360Hz FHD display. With such an insane refresh rate, you'll not only see and react to everything quicker, but also be more immersed thanks to a higher level of realism and life-like action.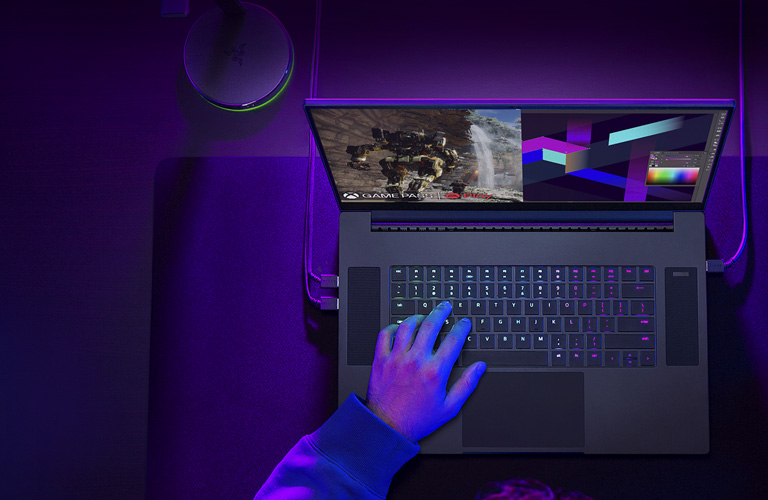 BEST OF BOTH WORLDS
Made to crush your work and play, our QHD option offers smooth visuals at a sharper 2K resolution. With such speed and sharpness on display, it's the perfect blend of what creators need and what gamers demand. *G-Sync to improve your gaming experience by eliminating screen tearing all together.
*G-Sync Available on 240Hz Configurations Only
Up to

100

%

DCI-P3 Color Gamut
MADE TO CREATE
With stunning 4K clarity, a larger, more vibrant color range, and an even faster 144Hz UHD display the Blade 17 is crucial for creative professionals who want their visions to truly come to life.
IPS-Grade

Anti-glare Matte Display
NEXT-GENERATION CONNECTIVITY
Sporting a suite of features including 2.5GbE ethernet and USB3.2 Gen 2 ports, the Razer Blade 17 is designed to be the ultimate on-the-go workstation that can be conveniently charged via USB-C (45W or greater).
1. UHS-II SD CARD READER
2. THUNDERBOLT™ 4 (USBC), 4 LANES OF PCIE*
3. USB-A 3.2 GEN 2 (TYPE-A)
4. HDMI 2.1
5. KENSINGTON SECURITY LOCK
6. POWER PORT
7. 2.5 Gb ETHERNET PORT
8. 3.5 MM HEADPHONE/MICROPHONE COMBO PORT

*USB-C™ charging requires 20V USB-C chargers with PD3.0
UHS Card Reader

Thunderbolt™ 4

Wi-Fi 6E

Windows Hello
Full-HD Camera
8 DYNAMIC MULTI-DRIVER SPEAKERS
CINEMATIC, HIGH-FIDELITY SOUND

Upgraded with 8 new speakers, 4 tweeters and 4 subwoofers, the Razer Blade 17 promises a full-range audio experience worthy of the big screen.

Supported by THX Spatial Audio, its advanced 7.1 surround sound provides pinpoint positional accuracy even when using headphones—delivering immersive, lifelike audio for stereo and multi-channel content alike.
FHD WEBCAM AND MIC ARRAY
With solid 1080p quality and a voice clarity to match, be seen and be heard clearly for every video call as you stay connected with family, friends, and colleagues.
LARGE 82WHR BATTERY
The Razer Blade 17's upgraded battery now more hours of battery life, with an included 2-year limited battery warranty for even more assurance and peace of mind.
ANTI-FINGERPRINT COATING
By popular demand, the Razer Blade 17 has been designed to pick up less smudges when used or handled, ensuring it always maintains a sleek, clean look.
EASY UPGRADEABILITY
With an extra m.2 slot and user-upgradeable memory slots that support up to 64GB of memory, the Razer Blade 17 can be fitted for more storage and speed.
DURABLE ALUMINUM UNIBODY
From laser-cut speaker grills to its slim frame, the Razer Blade 17 is CNC-milled from a single block of aluminum for greater durability and coated with an anodized matte finish that protects against scratches.
LARGER KEYBOARD AND TRACKPAD
Allows for a more seamless user experience when typing and navigating.
280W GaN Charger
More Power On the Go

Utilizing gallium nitride semiconductiors, the 280W power adapter included with 2022 Razer Blade 17s has a smaller footprint than the previous 230W adapter and higher power output. By leveraging GaN technology the new Razer Blade 17 is even easier to travel with than before. Equipped with more power to dominate AAA game titles or taxing content creation, the Blade 17 the continues to be the ultimate desktop replacement.
280W GaN Charger image dimension of 6.44 inch length x 2.76 inch width x 0.96 inch height
6.44"(L) x 2.76"(W) x 0.96"(H)
Weight: 1.54 lbs / 0.70 kg

Power efficient gallium nitride semiconductors

Up to 60% smaller than other 280W adapters*
POWERED BY RAZER CHROMA™ RGB
With 16.8 million colors, countless patterns, dynamic in-game lighting effects—experience full RGB customization and deeper immersion with the world's largest lighting ecosystem for gaming devices. Supporting a growing list of thousands of devices and hundreds of games & applications, take it to the next level with advanced features such as Chroma Studio, Visualizer, Connect and Workshop.
PLAYTIME. ANYTIME.​
Play the latest games with graphics that rival reality. Play with players on console. Play with the peripherals that you love. When it comes to playing your way, Windows 11 makes it happen.

THE RAZER ADVANTAGE
When it comes to gaming laptops, we believe in combining powerful performance, bold design, and durable construction. The Razer Blade laptops are created to support high-powered work and gaming while you're on the go. Find out why our laptops have THE RAZER ADVANTAGE.
GET MORE
GRAPHICAL POWER
Connect a Razer Core X via Thunderbolt™ 3 to unlock a more powerful desktop graphics card for more frames per second in games. Combine the power of the built-in NVIDIA® GeForce RTX™ Series graphics with a second GPU to speed up rendering on supported creative apps.

"Having the Razer Blade 17 laptop while on tour allows me to quickly make recordings or edits and lay down multiple tracks and record large files that need a lot of power."
- Jeremiah Fraites from the Lumineers
#MADEWITHBLADE is an exploration into the cutting-edge creativity of some of the most talented artists in the world.
Thunderbolt and the Thunderbolt logo are trademarks of Intel Corporation in the U.S. and/or other countries. Intel, the Intel logo, the Intel Inside logo and Intel Core are trademarks of Intel Corporation in the U.S. and/or other countries. Copyright © 2022 Razer Inc. All rights reserved. Razer, For Gamers By Gamers, and the triple-headed snake logo are trademarks or registered trademarks of Razer Inc. and/or affiliated companies in the United States or other countries. All other trademarks are the property of their respective owners. Actual product may differ from pictures. Information correct at time of printing.