New Year's Specials: Ready up for 2023 with our best picks and latest CES releases.
Shop Now
ADVANCED CUSTOMIZABILITY FOR ULTIMATE CONTROL
Our goal was to design the ultimate Xbox One controller, one adaptable to any gamer. We started with optimized ergonomics that stay comfortable after hours of practice, and interchangeable parts that adapt to your playstyle. Then we added Razer Chroma lighting and a suite of remappable buttons and triggers that allow you to change your layout and execute advanced techniques with ease. What you get is the most versatile and customizable controller ever.

*Compatible with Xbox Series X and Xbox One
CUSTOMIZED TO A PERSONAL FIT
Get the perfect fit and feel in your hands with interchangeable thumbsticks and two interchangeable D-Pads. Swap between optimized thumbstick heights and shapes, and quickly change between a tilting or individual D-Pad button layout for the best comfort and gameplay.
"Razer's Wolverine Ultimate could very well be the best gamepad available today"
– PC Gamer
POWERED BY RAZER CHROMA™ RGB
With 16.8 million colors, countless patterns, dynamic in-game lighting effects—experience full RGB customization and deeper immersion with the world's largest lighting ecosystem for gaming devices. Supporting a growing list of thousands of devices and hundreds of games & applications, take it to the next level with advanced features such as Chroma Studio, Visualizer, Connect and Workshop.
EXTRA BUTTONS FOR EXPERT CONTROL
The Razer Wolverine Ultimate Xbox One controller comes loaded with a slew of extra buttons for advanced gaming—2 remappable Multi-Function bumpers, 4 Multi-Function triggers and a Quick Control Panel. Now you'll have ultimate control at your fingertips, and with the remapping function both on-the-fly or with Razer Synapse for Xbox , you can master next-level techniques like moving and aiming with both thumbsticks.
RAZER CONTROLLER SETUP FOR XBOX
Designed for XBOX ONE and Windows 10, the all-in-one configuration software is now a reality for ultimate customization.
ASSIGN BUTTONS
Remap multi-function buttons and triggers, and create more than 500 customized profiles to suit different game genres and playstyles.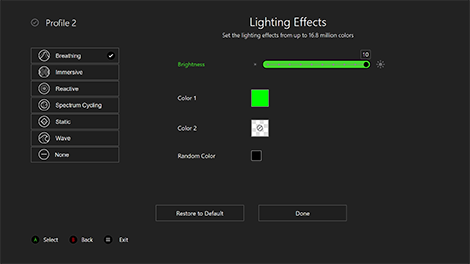 LIGHTING EFFECTS
Razer Chroma™ effects include Breathing, Immersive, Reactive, Spectrum Cycling, Static and Wave. You can also create your own palette from 16.8 million colors.
SENSITIVITY CLUTCH ADJUSTMENT
Pressing assigned "focus"/ "agile" button when moving the thumbstick decreases/increases sensitivity for greater aiming precision or speedy response.
MOTOR VIBRATION
Customize vibration intensity for Impulse Triggers and haptic rumble motors to create complete gaming immersion.