For a limited time, all orders will enjoy free shipping to Australia.
Shop Now
CONSOLE. MOBILE. COMBINED
Enjoy cutting-edge audio performance that embraces the future of Xbox. Enter the Razer Kaira Pro—a wireless headset for Xbox Series X|S and mobile gaming. Fitted with our best drivers and headset mic, experience stellar sound and voice chat for unrivalled console and mobile gaming.
AVAILABLE IN
Black | Special Edition | Halo Infinite
XBOX WIRELESS AND BLUETOOTH 5.0
The Razer Kaira Pro for Xbox is designed for two modes of gaming.
FOR XBOX SERIES X|S
Direct, low-latency console gaming via Xbox Wireless.
FOR MOBILE DEVICES
Seamless, convenient mobile gaming via Bluetooth 5.0—optimized for Xbox Game Pass.
Razer™ TriForce Titanium 50mm Drivers
Our all-new patented design allows our engineers to custom tune each driver as though there are three—allowing for the individual replications of high, mid and low audio frequencies to deliver richer trebles, brighter sound and powerful bass.
This Xbox Series X|S wireless headset also includes titanium-coated diaphragms, giving added clarity to any vocals you hear so that any comms you receive is always crisp and clear.
RAZER™ HYPERCLEAR SUPERCARDIOID MIC
The pickup pattern on this detachable 9.9mm mic has more noise rejection from the sides as compared to a cardioid mic, and provides a true recreation of your voice thanks to a sensitive low frequency response and an open microphone housing designed for minimal obstruction.
FLOWKNIT MEMORY FOAM EAR CUSHIONS
To keep you in peak form during gaming marathons, our new breathable weave minimizes sweat and heat build-up generated by skin contact, while the ultra-soft foam's improved density greatly reduces the headset's clamping force.
DEDICATED MOBILE MIC
Hidden in this Xbox Series X|S wireless headset is a second mic that works without the Razer™ HyperClear Supercardioid Mic—handy for when you need to talk while commuting, whether it's for mobile gaming or answering calls.
EQ TOGGLE AND XBOX PAIRING BUTTON
Located on the right earcup, hold down the button to pair your headset easily, and press it twice to cycle through 4 EQ settings—such as FPS Mode that enhances in-game audio like enemy footsteps, and Bass Mode to amplify low frequency sounds.
WINDOWS SONIC
Experience lifelike surround sound that allows the headset to place audio with pinpoint accuracy, heightening your in-game awareness for a competitive edge and truly immersive experience.
ADVANCED APP CONFIGURATION
Supported by the Razer™ Headset Setup for Xbox app, get it sounding exactly the way you want with access to deeper audio customization options such as personal EQ presets, mic monitoring, and more.
A Auto-adjusting headband
B Bluetooth / Multi-function button
C Game / Chat balance wheel
D EQ / Xbox Pairing button
E FlowKnit memory foam ear cushions
F Earcups Powered by Razer Chroma™ RGB
G Mic diaphragm
H Microphone jack
I Charging port
J Power button
K Status Indicator
L Volume wheel
M Mic mute switch
RAZER KAIRA
vs
RAZER KAIRA PRO
RAZER KAIRA
RAZER KAIRA PRO
Xbox Wireless
Xbox Wireless and Bluetooth 5.0
Bendable Razer™ HyperClear Cardioid Mic
Detachable Razer™ HyperClear Supercardioid Mic
Dedicated mobile mic
Razer™ TriForce 50mm Drivers
Razer™ TriForce Titanium 50mm Drivers
FlowKnit memory foam ear cushions
FlowKnit memory foam ear cushions
Windows Sonic
Windows Sonic
On-earcup audio controls
On-earcup audio controls
Battery life: Up to 15 hours
Battery life: Up to 15 hours (with Chroma Lighting) / 20 hours (without Chroma Lighting)
Approx. 293g

View the Razer Kaira
Approx. 330g



POWERED BY RAZER CHROMA™ RGB
With 16.8 million colors, countless patterns, dynamic in-game lighting effects—experience full RGB customization and deeper immersion with the world's largest lighting ecosystem for gaming devices. Supporting a growing list of thousands of devices and hundreds of games & applications, take it to the next level with advanced features such as Chroma Studio, Visualizer, Connect and Workshop.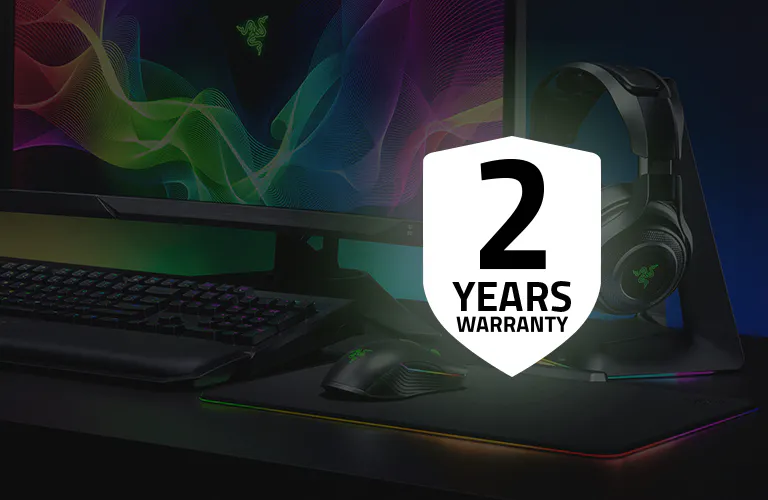 We've Got You Covered
Get up to 2 years of warranty and access reliable tech support. Purchase directly from RazerStore and get 14 days risk-free returns.
FAQs
Does the Razer Kaira Pro support noise cancellation?

The Razer Kaira Pro does not have active noise cancellation but is equipped with ear cushions designed to provide improved sound isolation and comfort.

What is Game/Chat Balance?

The Game/Chat Balance wheel on the headset allows you to customize how loud your game audio is compared to your team chat audio, so you get the perfect audio mix of both.

Can multiple Razer Kaira Pro headsets be connected to the Xbox Series X at the same time?

Yes, you can connect up to 4 Razer Kaira Pro headsets to the gaming console at once.

How do I customize audio for the Razer Kaira Pro?

To access EQ presets, mic features, and more, you must first download and install the Razer Headset Setup for Xbox app (via Microsoft Store) to your gaming console or PC.

What are the connectivity options available for the Razer Kaira Pro?

The Razer Kaira Pro can connect to Xbox console via Xbox Wireless, Bluetooth devices, and PCs (Windows 10 or higher) with an Xbox Wireless Adapter (sold separately).

Is the Razer Kaira Pro powered by Razer Chroma™ RGB?

Yes. You can customize the Razer Chroma™ RGB underglow lighting of your Razer Kaira Pro through the Razer Headset Setup for Xbox app.