For a limited time, all orders will enjoy free shipping to Canada.
Shop Now
"The Razer Pro Click is a phenomenal wireless mouse with an elegant design and precisely engineered ergonomics so that you barely notice you're using a mouse at all."
- TechRadar
"The Razer Pro Click mouse sets the bar for productivity mice with its comfort, ergonomic grip, wireless connectivity, and long battery life."
- Techaeris
BEST IN CLASS ERGONOMICS CO-DESIGNED WITH HUMANSCALE
Razer teamed up with Humanscale, the world's premier experts of office ergonomics to bring you a mouse that is based entirely on the latest human factors research.
POWERED FOR CUTTING-EDGE PRECISION AND ALL-DAY COMFORT AT WORK
Engineered by top ergonomics scientists and designers, its added palm support prevents your wrist from anchoring onto work surfaces, alleviating strain and promoting better arm posture.
ABOUT HUMANSCALE
Humanscale is the leading designer and manufacturer of ergonomic products that improve the health and comfort of work life.
RAZER 5G ADVANCED OPTICAL SENSOR
Its 16,000 DPI sensor ensures even the finest movement of your mouse is tracked, giving you an acute level of precision that maximizes your productivity and efficiency at work.
EXTENDED BATTERY LIFE OF UP TO 400 HOURS
Work without worry. The battery lasts up to 400 hours / 16 days when connected via Bluetooth, and up to 200 hours / 8 days when connected via 2.4GHz wireless, allowing you to power through long hours of work.


See how long it can last based on your own usage habits:
Interact the radio buttons and sliders below to change the value of "Battery Life (Days / Months)"
/
Battery Life (Days / Months)
OTHER FEATURES
Durable For up to 50 Million Clicks
Designed as the ultimate go-to mouse for productivity, the switches in the Razer™ Pro Click are durable for up to 50 million clicks, combining performance with longevity.
Multi-host Connectivity for up to 4 Devices
Pair up to 4 devices and conveniently switch between your desktop, laptop, Android tablet or TV screen with just one click, without the constant need to pair and unpair.
8 Programmable Buttons
Power users, now you can work faster and smarter by assigning macros and secondary functions to any of the 8 independently programmable buttons.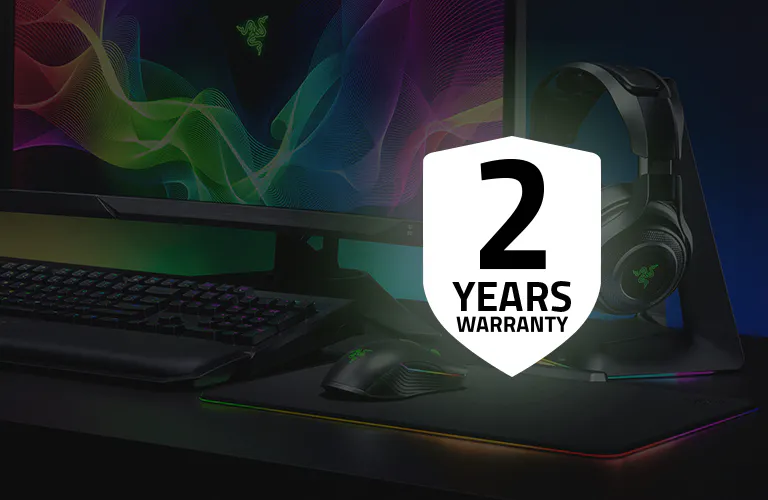 We've Got You Covered
Get up to 2 years of warranty and access reliable tech support. Purchase directly from RazerStore and get 14 days risk-free returns.
FAQ
What is the form factor of the Razer Pro Click?

The Razer Pro Click features an ergonomic design co-designed with Humanscale – world's premier expert in office ergonomics.

Does the Razer Pro Click have a tilt scroll?

The Razer Pro Click features 8 programmable buttons which includes a tilt-click scroll wheel.

What is the button at the bottom of the mouse?

The button at the bottom allows you conveniently switch between your devices without the constant need to pair and unpair.

How do I configure the Razer Pro Click?

Whilst you may use the Razer Pro Click without any additional software, you may install Razer Synapse 3 to configure the 8 programmable buttons, DPI stages, and more.

Does the Razer Pro Click work while it is charging?

Yes. The Razer Pro Click can work whilst the cable is plugged in.

Have other questions?