Back-to-School Specials: Be the top of your class with exclusive laptop and gaming gear bundles.
Shop Now
WHY IT'S IMPORTANT
Gaming with a mouse that fits you is crucial to performing at your best. It allows you play for long hours in comfort and offers seamless control that feels like a natural extension of your hand.

But every gamer is different, and there's no one-size-fits-all approach when it comes to how we play. To find out which mouse is right for you, we've got to identify two key factors:
How big your hand is
The first step in choosing the right gaming mouse is to determine the size of your mouse hand.
Measure its length (palm and fingers combined) and your palm width to find out whether your hand falls into the Large, Medium or Small category.
Hand Length
(base of hand to tip
of middle finger)
Hand Width
(Knuckle of the thumb to
the outer edge of the palm)
| SIZE | Hand Length | HAND WIDTH |
| --- | --- | --- |
| S | Less than 17cm / 6.7 inches | 7. 5 – 8.5cm / 2.9 – 3.3 inches |
| M | 17 – 20cm / 6.7 – 7.9 inches | 8.5 – 10cm / 3.3 – 3.9 inches |
| L | More than 20cm / 7.9 inches | 10 – 11cm / 3.9 – 4.3 inches |
The way you hold your mouse
While there are many variations of mouse grip styles, the 3 main ones are: Palm, Claw and Fingertip.

With most of your gaming done using one predominant grip style, it's also worth mentioning that your grip might change depending on the context and situation. Find out more about what each grip style has to offer and decide which one benefits you the most.
PALM
As one of the more popular grip styles adopted by gamers, it offers a natural and relaxed hand position for maximum support, due to the entire palm and fingers resting flat across the mouse.

While this creates a more comfortable gaming experience, it's not as ideal for games which require large, rapid flicks.
CLAW
This grip sees the palm partially resting against the rear of the mouse, with fingertips grasping the buttons and sides—a trade-off in comfort for more agility.

Despite not being be as comfortable as a palm grip, the claw grip is more favorable when making large, controlled flicks, such as performing sudden 180-degree turns in FPS games.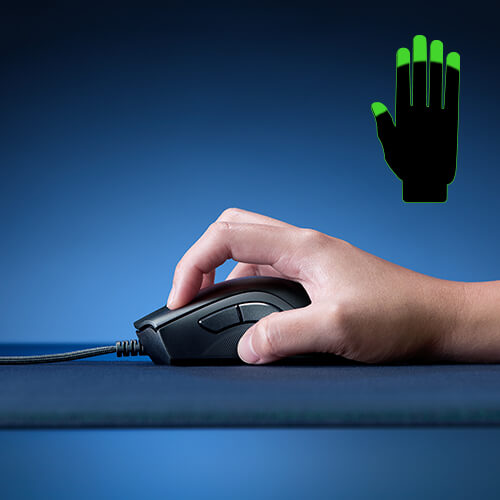 FINGERTIP
With no palm contact, this grip uses only your fingertips to control the mouse—the lightest touch for the fastest flicks.

Because it's not anchored by your palm, it also means more finesse with vertical movements, and lends itself well to shorter mice with flatter arches.
GET OUR RECOMMENDATION
If you aren't sure where to start, we've got a couple of questions that'll help narrow down the choices.
Not the mouse you're looking for? Click here to
start again
.
COMPARE AT A GLANCE
Simply pick from our list of Razer mice to see how they differ from one another.
Mice Model
Length
Grip Width
Height

Select Mice Model

Select Mice Model
DeathAdder V2
DeathAdder Elite
DeathAdder Essential
Mamba Wireless
Mamba Elite
Mamba Hyperflux
Naga Trinity
Viper
Viper Mini
Viper Ultimate
Basilisk X Hyperspeed
Basilisk V2
Basilisk Ultimate
Basilisk
Basilisk Essential
Lancehead Tournament Edition
Abyssus Essential

Select Mice Model

Select Mice Model
DeathAdder V2
DeathAdder Elite
DeathAdder Essential
Mamba Wireless
Mamba Elite
Mamba Hyperflux
Naga Trinity
Viper
Viper Mini
Viper Ultimate
Basilisk X Hyperspeed
Basilisk V2
Basilisk Ultimate
Basilisk
Basilisk Essential
Lancehead Tournament Edition
Abyssus Essential

Select Mice Model

Select Mice Model
DeathAdder V2
DeathAdder Elite
DeathAdder Essential
Mamba Wireless
Mamba Elite
Mamba Hyperflux
Naga Trinity
Viper
Viper Mini
Viper Ultimate
Basilisk X Hyperspeed
Basilisk V2
Basilisk Ultimate
Basilisk
Basilisk Essential
Lancehead Tournament Edition
Abyssus Essential
GET THE FULL BREAKDOWN
Feature

Select Mice Model

Select Mice Model
DeathAdder V2
DeathAdder Elite
DeathAdder Essential
Mamba Wireless
Mamba Elite
Mamba Hyperflux
Naga Trinity
Viper
Viper Mini
Viper Ultimate
Basilisk X Hyperspeed
Basilisk V2
Basilisk Ultimate
Basilisk
Basilisk Essential
Abyssus Essential

Select Mice Model

Select Mice Model
DeathAdder V2
DeathAdder Elite
DeathAdder Essential
Mamba Wireless
Mamba Elite
Mamba Hyperflux
Naga Trinity
Viper
Viper Mini
Viper Ultimate
Basilisk X Hyperspeed
Basilisk V2
Basilisk Ultimate
Basilisk
Basilisk Essential
Abyssus Essential

Select Mice Model

Select Mice Model
DeathAdder V2
DeathAdder Elite
DeathAdder Essential
Mamba Wireless
Mamba Elite
Mamba Hyperflux
Naga Trinity
Viper
Viper Mini
Viper Ultimate
Basilisk X Hyperspeed
Basilisk V2
Basilisk Ultimate
Basilisk
Basilisk Essential
Abyssus Essential

Learn More >
Learn More >
Learn More >
UNIQUE FEATURES
FORM FACTOR
CONNECTIVITY
BATTERY LIFE (HRS)
RGB LIGHTING
SENSOR
MAX SENSITIVITY (DPI)
MAX SPEED (IPS)
MAX ACCELERATION (G)
PROGRAMMABLE BUTTONS
SWITCH TYPE
SWITCH LIFECYCLE
ON-BOARD MEMORY PROFILES
MOUSE FEET
CABLE
TILT SCROLL WHEEL
SIZE
WEIGHT
DOCK COMPATIBILITY