For a limited time, all orders will enjoy free shipping to Hong Kong.
Shop Now
FORGET THE NOISE
Introducing our wireless THX® Certified Headphones equipped with advanced active noise cancellation (ANC) technology. Experience pure, high-fidelity sound with zero distractions for all your entertainment wherever you go.
THX® CERTIFIED HEADPHONES
For high-fidelity sound. Tested and optimized by experts in cinematic audio immersion at THX Ltd., the headset presents a rich, balanced soundstage for all your movies, music and gaming.
ADVANCED ACTIVE NOISE CANCELLATION (ANC) TECHNOLOGY
For an uninterrupted audio experience on the go. Whether you're watching a movie or rocking out to your favorite track, shut out all distractions with advanced ANC tech which detects and nullifies all incoming noise.
Engineered for Comfort
For long hours of wear. With plush leatherette memory foam ear cushions, a well-balanced weight and snug clamping force, you can keep the headphones on throughout long commutes and remain in supreme comfort.
WORKING FROM HOME NEVER SOUNDED BETTER
With four microphones dedicated to active noise cancellation and another two for voice communication, Razer Opus ensures you hear everyone in your conference calls and they hear you, both perfectly clear.
QUICK ATTENTION MODE
To stay aware of your surroundings. Press and hold the ANC button to instantly amplify ambient noise for a heightened sense of awareness—useful when crossing the road or to simply get a sense of your surroundings.
AUTO PAUSE/AUTO PLAY
To stop and start media seamlessly. Removing or resting these earphones around your neck pauses the audio. When you're ready to continue, simply pop your headset back on and get right back into your movie or music.
PORTABLE DESIGN WITH
3.5MM JACK
For greater convenience when travelling. Able to work with most devices, the foldable headset comes with an airplane adapter and premium carry case—making it a perfect travel companion for frequent flyers.
| | | |
| --- | --- | --- |
| | | |
| Active Noise Cancellation (ANC) | Yes (Feedforward) | Yes (Hybrid) |
| THX Certified | No | Yes |
| Low Latency | Yes (60ms) | No |
| Wearing Style | Over-Ear (Circumaural) | Over-Ear (Circumaural) |
| Driver Size – Diameter | 40mm | 40mm |
| Auto Pause/Play | No | Yes |
| Quick Attention Mode | Yes | Yes |
| Connection | Bluetooth Only | Bluetooth & 3.5mm |
| | View the Razer Opus X | |
1. Adjustable padded leatherette headband
2. Rotatable circumaural ear cup design
3. Plush memory foam ear cushions
4. Volume down button
5. Center (multi function) button
6. Volume up button
7. Mic diaphragm
8. USB-C port
9. 3.5mm audio port
10. Power button
11. Status indicator
12. ANC/Ambient button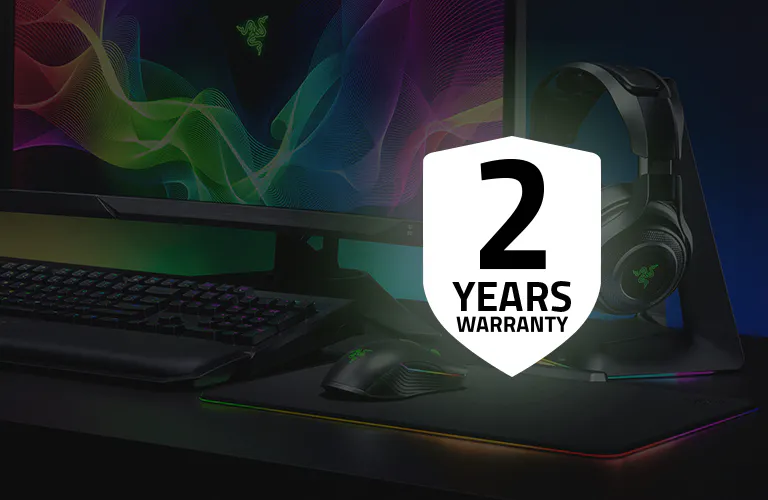 We've Got You Covered
Get up to 2 years of warranty and access reliable tech support. Purchase directly from RazerStore and get 14 days risk-free returns.
FAQ
Is the Razer Opus good for gaming?

Yes, the Razer Opus Wireless 2021 is great for gaming, especially mobile gaming. The headphones offer a low latency mode that reduces audio syncing issues and can be easily connected to console controllers using the 1/8" TRRS cable for full audio and mic compatibility. These features make the Razer Opus a great choice for immersive gaming experiences.

Can the Razer Opus be wired?

Yes, the Razer Opus can be wired. Simply connect it to any 3.5 mm audio socket using the provided cable. You can also utilize the airline headphone adapter alongside the 3.5 mm audio cable for in-flight audio jacks. Wired mode allows you to make use of ANC and Ambient Awareness features while ensuring the headset is powered on.

How long does the Razer Opus last?

The Razer Opus wireless headphones boast a remarkable battery life, lasting up to 25 hours on a single charge even when using active noise cancellation (ANC) . Experience uninterrupted listening pleasure with the Opus, perfect for long journeys or extended listening sessions.

Does the Razer Opus have a mic?